Interview with Nitzer Ebb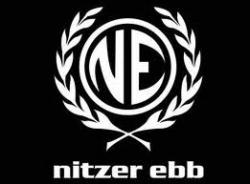 Reads: 3819 times
Galleries:
Last topics on forum:
Leo asked NITZER EBB in Hamburg about past things and future plans!
Hello guys, thanks for giving us the chance to answer our questions about Nitzer Ebb.
You have been around since 1982. When you founded the band, what dreams or ideas did you have you wanted to pursue?Bon Harris:
Initially we formed the band for our own entertainment. We lived in a small town with not much going on. We wanted to create our own excitement. We didn't want to do the same old thing, musically, visually or stylistically. So we developed the sound and presentation as we went.
Surely DAF and DIE KRUPPS are two bands with influence on you. What did inspire you back then and also today to write lyrics and compose songs?Bon Harris:
Yes, DAF were obviously a big influence. It was a very inspirational time to start making music. Synthesizers were starting to become more available, and it seemed there were a lot of possibilities making electronic music. It also was exciting to have a punk rock kind of band, using what was then new and unusual instruments. I still like that idea, of taking a conventional form, like Rock and Roll, and subverting it a little. The inspiration to continue comes from a deep and ongoing love of music.
The big breakthrough came with the support for Depeche Mode on their "Music for the Masses Tour" in 1987/88. Looking back to it from today, how do you feel about it?Bon Harris:
Looking back, that was obviously a turning point. I don't think we ever really considered ourselves in that kind of large, mainstream environment before then. We adapted to it quite quickly, and found that we were actually quite well suited to it. It changed us as performers, we learned more about putting on a show, entertaining a large, and sometimes indifferent or even hostile crowd. We learned to be more professional. We did a lot of growing up there.
The 1991's record "Ebbhead" is claimed to be one of the crucial albums of the industrial/EBM-movement of the 90s. What do you think made it so important and special?
Bon Harris:
Like all of our albums, I think it was the combination of elements that we were looking to combine. There was a lot of Rock influence on that album, but it was filtered through our minimal, electronic approach. I think we were also starting to stretch the boundaries of what was expected from our "scene" or genre, at the time. Perhaps it's too simple to say that we were "crossing over" into more mainstream, but it felt something like that. More accessible to more people.
In 1995, Nitzer Ebb released "Big Hit" and shortly thereafter you split. Is there any connection between the two events?Bon Harris:
Yes and No. "Big Hit"was a product of that time, and, looking back, we were winding down as a band anyway. We were making that album when things were coming to an end, or a break. We didn't know that when we started, but it was clear by the end of that record. Time to do something different. We are all still very proud of that record. It's our most misunderstood work.
What have you all be doing in the inbetween time after "Big Hit" until the reunion as Nitzer Ebb?
Bon Harris:
I lived in Chicago for a while, and got into producing music, starting with a band called 13mg. Then I moved to LA, carried on production with Billy Corgan, Marilyn Manson, Linda Strawberry and did synths and programming for a whole host of artists. Along the way I went back to school and learned to compose and arrange for orchestra, and did some scoring for film and TV. I also started another musical project called MAVEN - we wrote and produced an album that I was very happy with. recently Jason and I collaborated on a project that may turn into a larger theatrical production, so we'll be writing music for that.
What was the ultimate trigger to get together again to start working on the Nitzer Ebb adventure?Bon Harris:
Probably Terence Fixmer. He contacted Doug to work with him, which eventually led to Doug contacting me about NE, and NE getting back onstage.
Finally, after 15 years of waiting, the new album "Industrial Complex" will be released in a few days. What do you think is different and similar to those releases of the 90s and 80s? How did you develop?Bon Harris:
I think we mainly became more comfortable with life and our place in it. We have a greater awareness of what NE does well, and what it's not so good at. So we just focused on the basic strengths and worked with them. Experience is also a great help. Problem solving becomes fun when you have knowledge to apply to it. Teenage angst was fun as well, but it can be time consuming and tiring.
Who made the first step ahead towards a new album?
Bon Harris:
Mutual decision basically. After the reunion shows went so well, it was an obvious next step really.
What does the name "Industrial Complex" stand for? Do you like to name it a conceptional album?Bon Harris:
We were initially working at the peak of the Bush administration. The post world war 2 concept of the Military Industrial Complex was horribly alive and evident. All that had been warned of, and more had come to pass. That was bound to influence our thinking. That was the serious part. On the lighthearted side, it seemed that no matter how much we tried to experiment, and push boundaries, our work was always labeled the same thing. EBM in EU, Industrial in the US. So we had a little laugh at ourselves really.
Did you change the approach to songwriting over the years?
Bon Harris:
Yes. Obviously going to school and learning more about composing, combined with 25 years practical experience, that will have an effect on the writing. You have more options, and more ability to express yourself. You have more space to play with things a little.
There has been major advances in technologie since "Big Hit". Did you use all the new opportunities or did you prefer to work with the old equipment in order to maintain the "authentic" Nitzer Ebb sound?Bon Harris:
We used a hybrid approach. New technology is great for post production - developing, editing, refining and so on. I think the older tech is better for writing, for the initial creation. Keep things simple, honest and emotional in the beginning, then you can use all the tech toys to polish an already good idea. Hands on, physical instruments are still best for that initial idea, be it a synth with lots of knobs, a piano, acoustic guitar, voice, whatever
Let us go into the details of some songs. Please, let us know some of your thoughts and ideas to the following songs:
"Once You Say":
Bon Harris:
One of the first ideas to come. We took a basic approach to just playing together, and OYS was a sign that it was going to work well.
"Never Known":
Bon Harris:
This track really puts a lot of good basic elements together. Simple, driving bassline, great emotional performance from Doug, and arse kicking drum performance and arrangement from Mr Jason Payne.
"Payroll":Bon Harris:
From the same crop as OYS. Sort of a "Jam session" - even though I dislike that term - subconcious, spontaneous, and another cracker lyrically and performance wise from Doug. The track came together quite quickly, quite naturally.
"I Don't Know You":Bon Harris:
A little bit of a departure in some ways. Mainly in the song structure. Perhaps a bit like an indie rock track, with more traditional NE instrumentation.
"I'm Undone":Bon Harris:
Came from a really basic idea on the piano. I like to play piano first thing in the morning, before I talk to anyone, I make a cup of tea and play for an hour or two. That idea came one morning. I would develop it during tea breaks in the studio, and Doug would listen whilst making the tea. We put the ideas together - and there it was. Very Tea influenced. We were able to get a bit more sophisticated on the production and arrangement - it seemed to fit the style of the song. I'm not surprised that Alan Wilder chose it to remix.
"Kiss Kiss Bang Bang":
Bon Harris:
We'd reached a point on the album where we had covered quite a lot of what we set out to do. We had a bit of freedom to just mess around a bit. The song came from a quite basic approach. The trusty MPC sampler/sequencer linked to an Elektron Monomachine. The track, musically was definitely influenced by the means of production.
You still work together closely with Depeche Mode (the producer Flood, Guest vocals by Martin Gore, tour support). What is the nature of the connection between them and you?
Bon Harris:
Mute was the basic connection initially. We are also from the same area of England. As we toured with them, and worked together we found we share a lot in common and get along very well. We formed a good understanding, and a good friendship that has lasted over time.
What music to you listen to at home in your free time?Bon Harris:
Lots of orchestral music. Debussy, Bartok, Stravinsky. Big band - Ellington is the king of that obviously. Also lots of my own music as I'm always writing and practicing.
What are the last three albums you have purchased?Bon Harris:
Elgar - Enigma Variations (I bought the score as well), Bernard Herrmann - "Vertigo" soundtrack - a classisc. James Brown - greatest hits (had it on CD, lost it or broke it, so I re-bought it).
Jason Payne: Kid A, Helmet (the red one), Wu Tang Clan (the flag one).
You will be on tour with Depeche Mode and as Headlining shows as well. This will take you across Europe for the next three months. How dod you keep yourselves fit and recreate. I guess this must me very exhausting in a physical but also in psychological regards?Bon Harris:
Pre tour is lots of exercise and diet. Running, walking, not too much fatty food, not too much alcohol, and tragically, not much bread. It takes discipline sometimes. On the road, you do what you can. It's not easy, there's a party atmosphere, good food on the days off etc. Mentally, just try to find space when you need it. I take an instrument with, usually a travel guitar because it's immediate and portable. Read a lot, write a lot, try to take in as much local experience as you can, all the while conserving energy for the show.
What are you up to after you have finished the last gig?
Bon Harris:
See my family in England. Send time with my Lady. Write some music, go for walks, eat bread. Lots of bread.
Many thanks for the answers and your time. We wish you much fun and success on the tour! Do you have any last word to the fans out there?
Bon Harris:
Just to say thanks for all the incredible support. The headliner shows in the US and EU have been amazing. We're very lucky tohave such patient and dedicated fans. Obviously we could not do it without you.
Cheers!
Other articles:
Newest comments: