Interview with Petra Flurr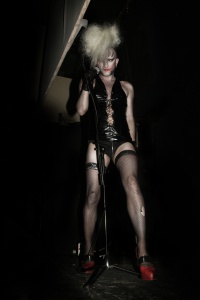 Reads: 2409 times
Petra Flurr is a queer synthpunk act from Berlin that started in 2003 and has been making unique yet very catchy underground electronic, punk and minimal wave-influenced music ever since. The songs are energetic, provocative, almost addictive and the live performances will definitely make you move and dance. Petra Flurr has so far released 4 albums - Deutsche Volkslieder (2002), Vix - Visage (Warsaw was raw label, 2008), Puffmutter (Saturator records, 2009) and the LP Petra Flurr & Modernista - Download Selbstmord (Fabrika records, 2012). Read on to find out what the artist has to say about music, influences, gigs, Petra Flurr's roots and future.

01.) How would you describe your music in your own words? How would you introduce your music to someone who has not heard it yet?

Petra Flurr: My music has no words to describe, maybe there are some influences from the late 70s beginning of the 80 with a touch of sound from nowadays. I would like to introduce my music to all kind of people.

02.) Where do you take your inspiration from? Are you influenced by anything or anyone?

Petra Flurr: I'm influenced as I said by the 80s and the dada movement.

03.) When and how did you start with music? Did you always want to make music?

Petra Flurr: You never think till it happens, we started to make music with my cousin when I was a teenager, just more kind of experimental tunes and Hip Hop. I like the aggresivity in music and the Power of Sounds.

04.) Which artists do you listen to nowadays? Are there any contemporary artists whom you enjoy listening to?

Petra Flurr: I like to listen to different kind of music, from techno –ebm, synthwave-punk to NOIZE.

05.) What are your music plans and goals for this year?

Petra Flurr: We are preparing our new album for this year with my music partner Modernista.

06.) What do you consider your highest achievement in the music area?

Petra Flurr: Next!


07.) Do you have any personal favourite amongst your own songs, for example a song that you really love to perform?

Petra Flurr: Almost all songs are really special for me. The one I most like to perform is Nonnen under Sonne from the last Puffmutter Ep. (2009 Saturator Records). But as I said, I like them all ;)

08.) Do you have any dream destination where you would love to perform at?

Petra Flurr: Japan is my next destiny as I really love the Japanese culture and people from there.

09.) Do you have any favourite venue where you performed already?

Petra Flurr: Some are more special than others, but I had one in the past. We performed frequently at Saturator club in Warsaw.

10.) Will we see you at any music festivals this year?

Petra Flurr: I will open for ADULT on the 16th of May at Festsaal Kreuzberg, Berlin.

11.) Do you prefer to play smaller concerts or perform in front of a bigger crowd? What are the differences between small concerts and large events to you?

Petra Flurr: I prefer small concerts, because you are in contact with the audience. My favorite part is when I'm done with my concert and get involved with some serial drinking session with my fans… ;)

12.) Are there any new, emerging artists from Berlin, who you think deserve more attention? Or any new emerging musicians from anywhere else in the world whom you really enjoy listening to?

Petra Flurr: I think the underground artists based in Berlin. Some of them desire more attention, as my partner Cute heels or Jemek Jemowit.

13.) What are some of your other interests except for music?

Petra Flurr: Organizing my own party " SABBAT" and hanging around with my friends and my dog.


14.) If you did not start making music, what would you be possibly doing? What would be your job?

Petra Flurr: I think I would start to be a photographer as I have a good eye for some things.

15.) Where do you see yourself in five years from now?

Petra Flurr: Same place, same city.

16.) I've always wondered what is living in Berlin like. What are some things you enjoy about living there?

Petra Flurr: I grew up in Berlin. My parents are from Sicily, but we moved here when I was 2 years. So this city means a lot to me, but now it is becoming really boring as so many people are moving to town and you can see how Berlin disappears.

17.) Do you have any special message for your fans and your possible future fans?

Petra Flurr: I would like to thank you all who supported me, and don't stop to listen to my sounds as we will grow and we're getting better …

Thank you very much for the interview and keep making great music!
Pages:
Newest comments: