Interview with Ronny Moorings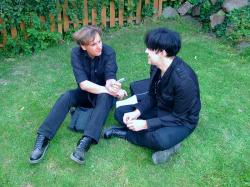 Reads: 15894 times
Artist:
Galleries:
CDs catalogue:
Last topics on forum:
Robert Mertuszka talking with Ronny Moorings, leader of legendary band - Clan of Xymox


I HOLD MY JOURNEY


Robert Mertuszka: I am very glad, that we can meet once again and talk for a moment...

Ronny Moorings: I am also glad...

We are close to the castle in Bolkow, where tomorrow, on the Castle Party Festival, Clan Of Xymox will play another concert in Poland. But I would like to talk briefly about the past. 25 years ago released your first album. Do you remember working on it and the emotions that accompany you then?

Ronny Moorings: Emotions were great! For the first time I entered a real studio and actually did not know what to do. I had a set of songs that I wanted to record, and thinking only about it. 25 years ago it was unusual, that finds the label, which has accepted these compositions. Then, it was not like now that virtually anyone can record whatever you want, it was a privilege to get to the studio and recorded all the material on the disc. For me important was the fact that we were next in order of the band, after Dead Can Dance, 4AD label which has signed a professional contract. Then I talked with Brandan Perry, who knew a lot about this label. Actually, he talked me into this contract, because I was not sure whether we are ready for such a large project. Then I found out that we were the first band to 4AD in three years, which has a recording contract. Such an event will make you feel really honored (laughs). Today, when just any contractor can release CD if it only has the financial resources, the magic of label disappeared somewhere, in which I firmly believe all the time. It's a great feeling to have the support and see people who see the sense in what you are doing. For me it is much more important than faith of band, that's what they does, has some sense.

Then there was the album "Medusa", is a little "album - a curse", such as "Pornography" The Cure, many fans are expected, you will always have sound like that. Say just quite frankly - how from the perspective of time looking at this album?

Ronny Moorings: I know very well how it is, and in some sense understand people who specifically attach themselves to a publishing of Clan Of Xymox. There is nothing wrong in this, but you can't expect from a band that will be continuously recorded one album, changing only the lyrics. It would be artistic suicide. When I was working on the album Medusa, nobody had the conviction to this album - literally, no one except me. Even in the 4AD told me that this material is not good enough. So I had to go back to my own studio and fine-tune some of the composition. As I see it now, I think they were right, the material has been prepared in such a short time after the first album that not everything on it is successful.

Did you then realize how important this album will be and what legend overgrown it?

Ronny Moorings: Hard to say. As I said, no one except me, did not believe in this album. I had to toil hard to convince the environment that it is worthwhile to give his attention. Today, after 25 years, I think it was the hardest piece of work throughout my career. I am very happy that people still reach for this CD. Figuratively speaking, it's a bit like the mother who gave birth to eight children, one of them was born with problems and has become a darling of all (laughs).

"Medusa" ends with a monumental composition "Back Door", and then suddenly released a 4 disc in a completely different tone - very pop. It was a deliberate escape, whether the sign of the times?

Ronny Moorings: We have always been a little hippie band, so when after the first two CDs, we have become known and popular, I felt that something must be done to keep up to date on what I've work. I believe that realised in 1989 album "Twist of Shadows" is my greatest creative success. This album made entirely independently, without the rest of the musicians who were then on vacation. I did it with the manager, it is more important, that until now has always decide myself about everything, but I knew that band members trust me and understand the choices. So I organized everything and under the banner of a new label, recorded a dozen songs that I consider to be the greatest achievement in my career.

.....?

Ronny Moorings: I see the surprise on your face, but this is how I feel in fact (laughs). A lot of thins has changed after that. CD obtained a commercial success, but I have already looked into the future, moreover, always do.


You don't like to talk about changes in the composition of the band, which occurred after the first two albums. Could you now from the perspective of many years to bring the grounds on which of them have decided?

Ronny Moorings: Contrary to appearances, I have nothing against it, to talk about it, sometimes the only thing that disturbs me is the fact that people attach so much importance to this case. Irritates me that talking about this issue creates the impression that the present members of the band were less important, which is patently untrue. Both those who have ever played with me and the musicians who accompany me in the band now are just as important. Regarding the reasons for personnel changes, the matter is simple. Time goes forward, everyone is doing some new things. As with ex-girlfriend or ex-boyfriend apart and we go our way. With me and former musicians were the same.

Is it true that the album "Farawell" would be your farewell (;)) to Clan Of Xymox?

Ronny Moorings: No, this is mere coincidence. I liked the title, though in his own way he was prophetic, because even then I saw the end of the music industry in the form in which they operate then. It seemed to me that this last record that I will deliver in CD format, because from now people will no longer buy CDs, just download from the Internet.

What has changed in your private life and music with the arrival on the band Mojca Zugny?

Ronny Moorings: First of all, there is a new approach to music. Mojca in her own way is more important than anyone else. She helps me to gain insight into the music we create and reinforce the belief that what I do in such a way that did not have more to adjust to the expectations of people and their suggestions for my work. This meant finding Mojka: Take only the music, what works for you and that I hold to this day. No one before had showed me that way, even people from the team when I came in a typical commercial music, although I never wanted this to create, or be identified with it. I know that once I gave this machine to suck. From what I did not realize to the end. Thanks Mojca - everything has changed.

What kind of feelings and moods are necessary, you can start creating new material Clan Of Xymox?

Ronny Moorings: I start work only when I feel that it is time to give the audience something new. It's a bit like a traveler who returns home and eventually finds that time again go on his way to see something interesting. When I finish work on a project, don't touch any instrument for five months, and then again begin to feel the need to enter the studio - just like at the moment. I'm working on a new album and I really feel a great urge to realize it. I have something to say, so I want to create. When I finish everything, I will enter a period when I will not feel nothing.

Is there an unfulfilled dream, both for the team, and your private life?

Ronny Moorings: There is no such. I try to realize my dreams in real time, every day, another dream is fulfilled.

Have you ever think about recording a solo album?

Ronny Moorings: All my CDs are solo (laughs). I write lyrics and compose music completely independently, but in concert the musicians accompany me. So it was from the beginning, when I started the band in the Netherlands, so it is now when I live in my beloved Leipzig.

You are to many people one of the top bands in their life. I think this is a nice feeling? As far as creating new material you think of the old guard fans, loyal to you for several years?

Ronny Moorings: I have never written songs for the audience, because I expect that people will understand what I want them to pass. Sometimes it occurs to me that I wonder why I did something this way and not otherwise. It's like going to the pub situation when you, being drunk, suddenly embrace someone that after a while wondering why you do this. In my case, this is how is with the albums that I recorded. Overall, I think, and you may or may not agree that everything I do, it must flow from me, to be part of my personality and upbringing. I hold my journey and, like everyone, I am not infallible.


To what extent, a recognized artist like you, is dependent on the music market, the label and the whole machinery of modern show business?

Ronny Moorings: Fortunately, this dependency does not concern me. I do not belong to that category of musicians who are the power of commerce. I'm just not part of the show buisness. Labels, with whom I work, support me, because simply understand and accept what I do. I have my audience, who sees the logic in my artistic choices and I'm proud of the fact that this state of affairs is unchanged for 25 years. I know there are many artists, even major ones, who, despite the enormous achievements are not happy, because like me many years ago, allowed themselves to be drawn into a commercial machine.

What would happen for you to said: This is the end - I see no point in continuing existence of the band?

Ronny Moorings: Oh, Robert, you are asking increasingly difficult questions (laughs).

I'm sorry, I promise that I will not...

Ronny Moorings: Well, I have to think about... Unless I would have to die. If you could ask my mom, she would answer that I knew as a child that music is what I want to do. I thought it as something extraordinary. My mom understood from the beginning that I would a musician, because she perceived how important it is for me, a world that opens before me sounds. Then, perhaps, not the end, I realized that my entire future will be related with playing music. I just liked to do it. So quite honestly, I was wondering if instead for an academic career. To this day I like to analyze and solve problems - I'm such a theorizing dude (laughs). I'm curious social issues, I studied sociology and media, many things around is very intriguing for me. Still, I dealt with music. During my studies, arranging music programs, I was a DJ, while I had my band.

Who would be today, Ronny Moorings, in the absence of Clan Of Xymox, as you mentioned there was a moment in your life that you could become a scientist, for example?

Ronny Moorings: It was simply impossible (laughs). I always dealt with music. I was lucky that in those days was to get me to buy four-path studio tape recorder. It allowed me to full freedom of composition. I was able to record all the same regardless of instrument parts: vocal, bass, percussion, guitar. In a word, I could really create. I had an idea in my head, and then only forward to each musician in turn, what and how to play. Independence in the composition is the kind of freedom, which I love. I'm not the nostalgic type, I like technological inventions and all related news. It gives me great pleasure to use. Thus, the absence of Xymox, would surely another band. So just have to be like that!

Thank you for your time.

Ronny Moorings: See you at the concert.

Pages:
Other articles:
Newest comments:
ToniW



Writen at: 2010-12-31 12:47:23

It's outrageous that Ronny Moorings claims he made "Twist of Shadows" "entirely independently, without the rest of the musicians who were then on vacation". ?????? This is ridiculous. In fact, it's probably libelous. I wonder if the other band members have seen this interview?? Truly incredible.