Interview with The 69 Eyes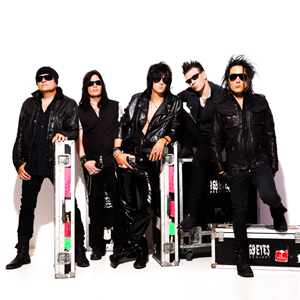 Reads: 3302 times
Artist:
Galleries:
CDs catalogue:
Last topics on forum:
The 69 Eyes came to Poland yet again, this time for as many as three concerts, promoting their newest album X! Taking this opportunity I asked for an interview with the band. Unfortunately, due to some logistic issues, it didn't happen before the concert in Wrocław, as it was planned. However Bazie, the lead guitarist, was so kind to answer my questions by mail.


It was, I believe, your fourth visit in Poland, and the longest one so far. How do you like playing here?
Yes, it must be, at least the fourth time, I'm not sure myself either. We have always liked Poland: nice people, great fans, amazing vodka. Poland was one of the very first countries, outside Finland and Germany, where we got decent press and dedicated fans in 1999.
It was really nice to play this time during the spring in Poland. Usually we have done the touring in the wintertime and then it has always been little bit of a struggle.

Did you get a chance to do any sightseeing? Do you do that while on tour?
Actually, this is the first time for over a decade, that we tour with a sprinter van and stay at the hotels overnight, so most of the daytime was spent travelling. That's why, unfortunately, there was no time for any real sightseeing this time. But we saw a lot of your country through the windows of our vehicle: beautiful fields and hills.
Normally when you travel with a tour bus, there is usually more time at the location, as the bus drives throughout the night. I personally try to get some sightseeing done whenever possible. At least some walking around in the neighbourhoods of the venue is part of my tour routine.

Your first concert in Poland, some 10 years ago, was really small and now you did three in a row. Is your popularity growing equally all over the world?
Usually we have visited Poland as part of the longer tour, now we just came to play for you, so we had time to do 3 shows. It was nice to stay a bit longer in your country.
Basically it is more people every time we revisit some city or country. The progress is slow but steady. There is no territory where the popularity is growing faster than elsewhere, so it is equal. In The US we have a lot of "new fans", so maybe there a bit faster, if I need to pick one place.

Your last album is different, in terms of music, than the previous one, softer in a way. Was it intentional? Is it somewhat connected to the change of producers?
Yes, it was partly intentional and partly connected with change of producers. Personally, I would have liked to continue in the direction of "Back In Blood's" sound and music style.
But the new songs had kind of naturally asked for different kind of sound and production style. And the rest of the band also preferred the more melodic, softer songs of my demos and wanted the album produced in a more "mainstreamish" way than the "Back In Blood", which was intentionally heavier and rockier sounding than anything we had done after the 4 first albums. The overall vibe of the new album turned out to be anyway more rocking than I expected, when decided using the new producers.
I am happy how the album sounds in the end, as there were so many setbacks during the process. It is one of the best albums we have done.


The lyrics also describe other topics that those from previous albums. Why did you completely leave out Dracula and the vampires?
It just felt that it was time for more personal lyrics. And they came naturally to Jyrki due to his own experiences. The more personal lyrics also fit the songs and mood perfectly.
With "Back In Blood" Jyrki wanted to do a "concept" album using mainly the vampire theme. We always like to set some frames for us when doing the album, but I think now, in hindsight, it felt a bit forced having mainly only one lyrics subject in the album.
And now, when the "vampire" album is already done once, why do it again? Anyway, there will always be touch of Dracula and drop of vampire blood in our lyrics.

"Rosary Blue" is band's first cooperation with another singer. Why didn't you do that earlier? How did the work go?
We never had the intention to do a duet with another singer. Kat Von Dee, who has been friends with the band for some time and also likes our music, is now starting her music career. She was just asking Jyrki, when visiting Helsinki, if there could be a chance to do something together musically. We happened to have this ballad kind of song "Rosary Blue", which Jyrki immediately thought would fit for this collaboration. So it was not intentional, happened kind of naturally, how all the good things do.
The actual studio recording had some problems and delays, which is why the song did not make the album: it was completed too late to make the album deadline. It was done by a different producer and in a separate session then the rest of the album.

Are there any singers you'd like to cooperate with? Can we expect that in the future?
To be honest, I think Jyrki's got so unique voice and it is our trademark, so better not mess with it. Thus, no plans for the new duet, but never say never. If we come up with the song that needs a duet, then why not? We have used some well-known singers as backing vocalists earlier, like Ville Valo from HIM, Benji Madden from Good Charlotte and L.G. Petrov from Entombed.
Anyway, if I needed to pick some singers I would like to co-operate with, it would be the following: Ian Astbury from The Cult, Alice Cooper and Andrew Eldritch from Sisters Of Mercy.

As a band you've been together, unchanged, for over 20 years. What's the secret behind that?
Wish I could tell you that, I have no clue… At least it helps, that nobody's a virtuoso as musician, so we as whole band are something unique, which we could not be with some other people. Every one of us has a different personality, so that helps also, when dealing with each other. There are no blocs inside the band. But most importantly, we all still have the passion to make and play music and we mainly have the same vision about the band's music and style. But it has not been easy, I can tell you.

Since sometime around "Blessed Be", you're perceived as a gothic band. The album itself is quite different from the previous ones. What made you change your style back in 2000?
In 1999/2000 we felt that we went nowhere with our music and gigs. This was after "Wasting The Dawn". Everybody in the band was shooting at different directions musically and stylistically. This was alright for the first 4 albums (from which I think "Savage Garden" and "Wrap Your Troubles In Dreams" are the best.). But after "Wasting The Dawn", which has some great songs but the production did not do justice for them, we decided to do something about it.
So we hired an outside musical producer, keyboard player and arranger called Johnny Lee Michaels. His job was to put together our musical vision and make it more compact stylistically.
He wanted to concentrate on our gothic side, Jyrki's deep voice and more musical arrangements. "Blessed Be" was intentionally meant to be a gothic album, so it was production style decision from us. Songs were anyway written the same way as before with no intention making them "gothic".

Any last words for your Polish fans?
Always nice to visit your country. Was great to see you all again and thanx for sticking with us! Hope The 69 Eyes can give you musical pleasure also in the future.
We will be back! Cheers!

Once again, thanks for the interview and for the marvellous concert in Wrocław! I do hope to see you guys in Poland soon!

Pages:
Other articles:
Newest comments: