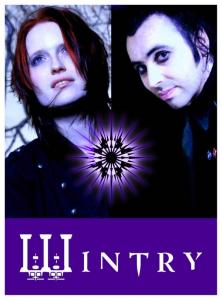 Reads: 4498 times
Hello Alex, thanks for answering some questions about your project WINTRY. First of all I want to know, how you did got to know about the german singer Anne Goldacker.
Alex:
Bruno Kramm (Das Ich) told me about her. So, I sent a message to her asking about make part of this project.

And how does the collaboration works out between you and Anne?Alex
: Perfect. I had all tracks recorded since 2000, so, I just sent the files and she did the lyrics and recorded the vocals very quicky and done. I think we both loved music as pleasure, and it turns easy this collaboration.
Do you intend to meet each other one day?
Alex
: Haha...Of course. We wanna do concerts together very soon.
How does a typical WINTRY song comes to life?
Alex
: I have many projects and some tracks didn´t fit the others, so, started Wintry.
I gather from the press text, that SHEILA was involved in WINTRY in the past. Do you know, what Sheila is doing right now?Alex
: Sheila is playing solo aka Lahannya. She took part when I was living in London between 2002-2004.
Now let's talk about the album title. Who of you have had the idea to name the album "Atmosphere around us"?
Alex:
It was my first idea about the title. After Anne came to the band, I asked her about the title and she told me was great, because fits our ideas and conception of the whole album.
How you would discribe the music by Wintry by your own words?
Alex:
Well, my music always has feelings. I believe is impossible you do good music without that. It´s for all kind of music (Industrial, Darkwave, Electro, Punk), I just show my feelings that time with my recordings. Wintry was recorded when was more mystical and with many influencies of different artists as Dido, Delerium and Dead Can Dance for example. For me, Wintry music is beauty, dark and pop.
Do you have any personal expectations?
Alex:
Yes, of course. Wintry just born. The sound on this first album is not perfect, but we wanna record the second in 2010. Some gigs, albuns, etc...
There are german lyrics, too. "Unreale Welt" is a german song and "Cinema of soul" is partly german and partly english. Which criteria do you put on to decide, whether a song is performed in german or in english?
Alex:
Sing in German or English was not my decision. Anne did it. Anyway, I really liked she singing in German. Maybe next album can be all German or mixed with English.
Will there be more german songs in the future?
Alex:
Yes, fits very well we my music.
What are the inspirations for you to compose a song?
Alex:
How I told you, all kind of feelings when you go to record. Bad and goods.
And how it is for you while composing? Do you need a flash of ideas or can you compose at any time?
Alex:
I really prefer when not my others projects are open. I mean, if I´m doing gig with other project or recording, the best way is just wait finished to start another one.
The album is released in a second limited edition, too. People also can get a limited Double CD, which includes remixes for example by MECHANICAL MOTH, IN AURORAM, FFFC and DOWNWARD PATH. Where did you get the contacts from? Do you know each other in person?
Alex:
I´m working with alternative scene since 1987, so I know many people around the world when was in London or going to Germany, Holland, etc. Yes, I know personally Tandrin of Mechanical Moth, he´s a great musician and a distant friend. He did remix for 3 Cold Men and we met sometimes in Leipzig to drink and talk. In Auroram and Downward Path are new bands than I signed for my label Wave Records and will release albuns very soon, and FFFC are from Croatia and the debut album will be released by Wave Records in July/2009.
And how does the remixes sounds in your opinion? How it is to listen the own music in a remix?
Alex:
They are really cool. It´s great for me listen my music with new ideas. Someone else can find a perfect string or guitar or percussion you never imagine before. I agree with remixes definitly.
Will there be any livegigs with WINTRY?
Alex:
Yes, we have plans to make 1 or 2 in Brazil and European tour as well. We have a manager starting working right now. Maybe 2009 or 2010.
Do you have other musically projects besides WINTRY?
Alex:
Yes, Individual Industry (my first band from 80´s), 3 Cold Men, and my Voodoo Industrial project called Pecadores (But I use nick name) hahaha.
Can you imagine to work with other musicians?
Alex:
I always work with new musicians...
Now I have a generally question: What means music for your life?
Alex:
Breath, I tried do something else but I just can be happy doing music and working with music. Without music I´m really dead.
Do you earn your money with music or do you commit to a daily job?
Alex:
I run my label Wave Records and online cd shop to survive. After 2004 I just work with music and some work with Searching Institute sometimes.
Do you have any personal wishes regarding your musically career?
Alex:
Travel around the world playing with my projects, doing albuns and get money enought to keep doing that.
Thanks for taking your time! We wish you all the best and take care! Any last words for all our readers out there?
Alex:
I just want to say thank you for give us the opportunity to talk about Wintry here, and we really wanna take part of the alternative scene in Germany, and others European countries. Cheers.
Other articles:
Newest comments: