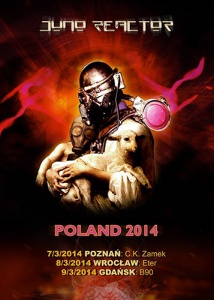 Reads: 2212 times
Artist:
Galleries:
Last topics on forum:
What a Women's Day it was!...
Juno Reactor
formation gave a memorable concert in Wroclaw's
Eter
club. Although the concert started at 17.30 – it was unusual, not to say very discouraging (the club on the same day planned another event related to Women's Day), the turnout of fans was truly worthy of the format and the band's deserved fame.
As usual in the case of organizing cyclical concert tours,
Juno Reactor
came to promote their latest album, The Golden Sun of the Great East. Inevitably, the most of played songs came precisely from that album, to the disappointment of fans and at the expense of others - for example, from the album Gods & Monsters we experienced only two positions, and still heavily reworked comparing to the original. There was also an immortal soundtrack to The Matrix, which once gained the international reputation of
Juno Reactor
.
Let's look to things that happened on the scene.
Bringing together artists from all over the world
Juno Reactor
defended primarily with incredible energy, which infected practically all who came. Those dances, that rhythm, that power! Almost everyone who attended was jumping, as the
Juno Reactor
played.
Ben Watkins
kept quite unique contact with the audience, and the gentle voice of Hamsiki Iyer and sensual dances from
Mali Mazal
mesmerized with perfection.
Though?...
Since the beginning
Hamsika
Iyer sang quietly, but firmly, and clean. Then into motion went two magic MacBooks of Ben Watkins and vocal has been digitally processed, it would seem - live, one to one. However, one could see that there were moments, in which the vocal part played at best, and the very female vocalist...oriented a moment later, that she should sang. Playback? Maybe. But in the excitement of everything what was happening on the stage, you cannot be sure of anything in one hundred percent.
Contrary
Mali Mazal
dancer could not have that problem. Almost to each of the tracks she had prepared (or not, maybe she simply felt it?) choreography, reflecting well the atmosphere of the song. Her movements hypnotized, she seduced with her look. Patent with clothing and fluorescent make-up was giving amazing visual effects.
Energy was experienced from each member of the band. Wrocław's
Eter
club is famous for its good sound and actually the only small drawback was the selection in the order of songs itself. Promoted record, as its name suggests, contains a strong inspiration of Eastern culture - a couple of times could be heard comments like "what is that? Bollywood is dancing and singing!" and after a few such songs the audience a bit inhibited in jumps. Of course, when it was heard something, they already knew, they revived once again, and so on.
Usually, quality of concerts can be evidenced by the number of encores demanded by fans - and they demanded many,
Juno Reactor
meet their requests. Audience went out charged with positive energy, purified by unique sound of roots from around the world. It is the kind of electro, which simply you have to know – because of that now heartily we recommend to get to know The Golden Sun of the Great East album and to make your own opinion. And in the case of the new concert of
Juno Reactor
in Poland - march to the club! Some things you just have to experience.
Other articles:
Newest comments: