Ketha + Dead Goats + The Gentle Art Of Cooking People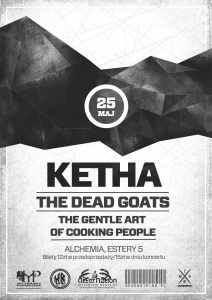 Reads: 1820 times
The name of Alchemia Club in Cracow brings to mind secret corridors of nightmarish castles and the atmosphere shrouded in medieval darkness. Just like those castles the club has its own secret – narrow staircase, airless dark, tight passages and here we are – in quite roomy place adjusted to hosting concerts. On 25th May exactly in this place the concert of three bands, The Gentle Art of Cooking People, Dead Goats i Ketha took place. Arriving at the venue I found out that nothing really was happening yet. Just a few people hiding in the corners, the stuff ready but nobody on the stage and everything illuminated with poor light. Initially this poor turnout was worrying but soon after, just as the concert was to begin it turned out that the place is full and even crowded.
The Gentle Art Of Cooking People
as the first ones on the stage – the band comes from Cracow and describes themselves as the ones who haven't achieve anything in fact. In my opinion their biggest achievement is that they dragged the audience into their music with the very first sound and they started quite energetically. There was no way to resist and nobody even tried to. The guys appeared on the stage in quite unusual outfit: shorts, knee-length socks, hats and fake beards. As I got to know later it was the reference to footballers' appearance from the twenties as the date of the concert coincided with the finale of Champions' League, which by the way was projected upstairs. Anyway, it was pretty intriguing element of the event. The musicians on the stage were focused, precise and completely wrapped up in playing. A little spontaneity or interaction was missing. On the other hand it gave the music more oppressive and psychedelic character. And this is what this music is, overwhelming or aggressive, bringing to mind the beyond or wild rush through the waste lands. The band doesn't have a vocalist and the lack of lyrics opens the gate for imagination. Both, the lack of words and discreet light let us just indulge in the music.The Staff was changed and another band,
Dead Goats
came on stage. As opposed to the previous one, all three members of the group, along with the drummer, were active vocally. Momentarily they resembled the voice from hell. They were much more energetic on the stage and the music was much more aggressive. Something for the fans of really heavy playing.And then
Ketha
– the quintessence of the evening. The band skilfully managed to combine all the musical experiences of the evening. Their music was both aggressive and dark and mysterious, momentarily melodious right then provocative, seduced and destroyed. The band played also instrumental tracks and the dazzling light from the stage made the power of the music even more forceful.
So the evening may be regarded as ear-splitting and musically shaking.
Other articles:
Newest comments: