Lacrimosa - Lichtjahre (DVD)
Other CDs: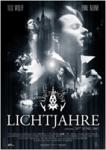 Lacrimosa
Add date: 2007-06-29
Label:
Hall Of Sermon
Tracklist:
01. Kelch Der Liebe
02. Alles Lüge
03. Der Morgen Danach
04. Not Every Pain Hurts
05. Letzte Ausfahrt: Leben
06. The Turning Point
07. Schakal
08. Malina
09. Ich Verlasse Heut' Dein Herz
10. The Party Is Over
11. Stolzes Herz
12. Road To Pain
13. Ich Bin Der Brennende Komet
14. Copycat
15. Durch Nacht Und Flut
16. Lichtgestalt
Picture Format
Pal
Region Code
0 (all Regions)
Technical Information
Nb :- Pal = European Tv Format, Ntsc = Usa Tv Format. Please Check The Compatibility Of Your Dvd Player With The Relevant Tv Format, As Well As Its Region Compatibility, Before Ordering Your Dvd. If You Have Any Doubts Then Please Email Us.