Lacrimosa - Tour: Revolution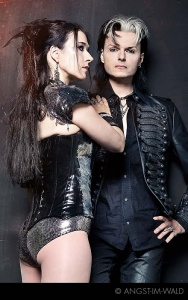 Reads: 3940 times
Artist:
Galleries:
Last topics on forum:
On Sunday, 23rd September in Warsaw, started the new Lacrimosa's tour "Revolution" which promotes their new album. In 2010, the band celebrated 20th annual.
Warsaw's "Progresja" club was brimming with beautifully dressed fans. There were a lot of gothic stylisations! Both young and older fans, even near sixty years old came to see Lacrimosa's performance. On the stage was a banner in recognizable drawing-style of Lacrimosa's album covers. We heard the biggest hits of band, Malina, Schakal, Lichtgestalt and wonderful Allene Zu Zweit. Beautiful musicians, Tilo Wolff and Anne Nurmi are still lovely and young. Time seems unable to put a dent on Lacrimosa's members. The band dedicated one of the songs to the memory of Tomasz Beksiński and his radio broadcasts, which made a lot of gothic bands popular in Poland by his reviews and translations. One of his broadcasts was a "Night with Lacrimosa" (24.10.1999) and before comitting suicide, he ws listening Lacrimosa's "Elodia" album. Tilo told in one interview, that he feels deeply connected with Tomasz. Dedication was a well-received nod towards Polish fans. It caused a huge applause.
The concert, like a theater play, was divided into two acts. The first act ended with Copycat song. Tilo has announced a surprise and he kept his word - after the performance he joined the fans to chat with them and sign CDs.
After the break, Tilo began second part of show, playing the piano in the song Refugium. Later the rest of musicians. Anne came on stage in a different outfit, revealing shapely legs. Band played beautiful songs like Halt Mich, Ohne Dich Nicht ist alles Nicht, Stolzes Herz, When the band left the stage the fans began chanting for an encore and were rewarded with a sing-along with audience the song Der Morgen Danach.
Impressions after the concert were divided, some people were delighted, but I heard also some criticism from fans expecting something more on twentieth anniversary and the "Revolution" itself. I personally felt that the performance was very impressive and fun, and that the musicians had exhibited great ability to reach out to the audience. Mood, formed by their melodic songs and a sharp German language reminds of a circus, dark cabaret, with great class and some beautiful pathos. Musicians of band are very charismatic and magical personalities, with specific aura. I will always remember the moment of meeting Tilo's sight, looking at the fans from the stage. Lacrimosa is unique and one of a kind. I'm looking forward for the next concert!
Act I:
1) Intro - Lacrimosa Theme
2) Revolution (first time played live)
3) Malina
4) Schakal
5) Mandira Nabula
6) Feuerzug (first time played live)
7) Lichtgestalt
8) If The World Stood Still A Day (first time played live)
9) Alles Luge
10) Tranen Der Sehnsucht
11) Alleine Zu Zweit
12) Irgendein Arsch Ist Immer Unterwegs (first time played live)
13) Ein Hauch Von Menschlichkeit (first time played live)
14) Ich Bin Der Brennende Komet
15) A Prayer For Your Heart
16) Apart
17) Copycat
Act II:
18) Refugium (first time played live)
19) Ich Verlasse Heut Dein Herz
20) Am Ende Stehen Wir Zwei
21) Weil Du Hilfe Brauchst (first time played live)
22) Halt Mich
23) Not Every Pain Hurts
24) Ohne Dich Ist Alles Nichts
25) Rote Sinfonie (first time played live)
26) Stolzes Herz
Encore:
27) Der Morgen Danach
28) Feuer
Other articles:
Newest comments: