Laibach - A Film From Slovenia: Nato Tour 1994 (DVD)
Other CDs: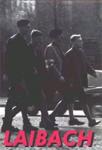 Laibach
Add date: 2004-11-29
Label:
Mute
Tracklist:
01. N.a.t.o.
02. War
03. Final Countdown
04. In The Army Now
05. Dogs Of War
06. Alle Gegen Alle
07. National Reservation
08. 2525
09. Mars On River Drina
10. Wirtschaft Ist Tot
11. Sympathy For The Devil
12. Geburt Einer Nation
13. Nato Dokumentation
Picture Format
Pal
Region Code
0 (all Regions)
Technical Information
Nb :- Pal = European Tv Format, Ntsc = Usa Tv Format. Please Check The Compatibility Of Your Dvd Player With The Relevant Tv Format, As Well As Its Region Compatibility, Before Ordering Your Dvd. If You Have Any Doubts Then Please Email Us.