Leaether Strip - Dark passages + Seasons Change - I Don't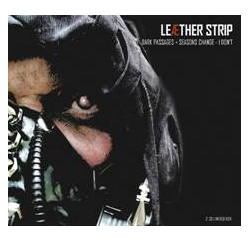 Reads: 4383 times
70%
Artist:
Galleries:
CDs catalogue:
Last topics on forum:
And that's the old Leaether Strip again, treating us to his new, 'movie-soundtrack' and electro sounding, two-disc album, which comes out today, that is 13th November. The release features two discs: "Dark passages" and "Seasons change - I don't".
The masterpiece opens with an announcement of Claus Larsen, promoting his 'new album', a motive which often comes and goes in between the tracks. "Dark passages" serves as the rhythmic and hit opening track, followed by the instrumental "Twisted Games". "Everything Dies" constitutes another jumpy dose of the electronic beat. The instrumental "Violence" slows down and leads for a nocturnal walk. This track perfectly suits the canon of the horror movies soundtracks, such suggestive elements may be found in other pieces of this production. "Embracing life's fire" is yet another tune, which proves just right about it. The track which follows the previous one, a thirteen-minute composition, entitled "Amanda", with a long, monotonous introduction, somehow appears as the continuation of the "nocturnal walk"; the fifth minute takes you by surprise with its rather dynamic expansion. After slightly monotonous "The Dead Stare", at least the time comes for "Lilith", in all probability my personal favorite, an oddly composed, 20-minute piece of music. While listening to its intro, one may have an impression of being followed: in this particular case your safety, whether you find yourself in a shelter for a moment, far from the disturbing sight of the unknown, depend only on your acts. That's how it continues until the seventh minute, when the course of action changes from traumatically rhythmic chase into a sort of disturbing inertia. The track unfolds once again in the fifteenth minute, when it commences to play ruthlessly without emotions, by means of a wide range of sounds, slightly lined with fear; the piece keeps such an atmosphere until its very end. The whole is brought to an end by "When hate takes over", which is not exceptionally distinguishable, apart from one fact - it lasts approximately two minutes. Here ends our horror.
The second disc, "Seasons Change - I don't" is substantially about sticking to classic electro style, which Leaether Strip has been faithful to for years now. "The end of the Road" sets a good example of such musical solutions. "Black Magic Man" constitutes a real classic of the genre, with its fabulous break-dance rhythm. "Bondage Is Not a Crime", apart from keeping to a convention of the old school electro, remind us that "Bondage" is no crime. The next track, being the title "Seasons Change - I Don't", features the appearance of a female voice, taking turns with the aggressive vocal of Larson. "Dead Swan" renders the atmosphere a bit milder and gentler; it is exquisite, dark and gloomy. "It's not real" brings to mind some sort of traumatic experiences, with a mantra, echoing incessantly that everything which happens to you, is not real. Meanwhile "Door Without No Handle" treats us to a claustrophobic space, it is true that we ourselves are the participants of the horror. After this dose of anxiety, "My Shadow is Your Home" begins, which I will not put up with due to the use of fragments of one of the classics of the classical music. Which one? You will have to guess on your own. However, in relation to this subject, I would like to emphasize that the great, classic masterpieces of the classical music should not be distorted by any means of the contemporary technology. Nowadays, one may witness the absurdity in the form of an ignoramus who is not able to tell apart the works of Mozart or Bach from the latest melodies, which come out from the mobiles. Perhaps this constitutes quite a misfortunate comparison, which I dare to include in the review of Mr. Larson's music, yet it indubitably may show this uncannily sad phenomenon. The last tracks on the record are the remixes of the above-mentioned pieces: "Dark Passages", "Everything Dies", "Voluntary Confinement": the three, exemplary both in the overall sound and vocals, EBM tracks. That's exactly the music we would have fun to at Hacjenda and The Old Cinema at the Castle Party Festival in Bolków. Then, "Embracing life's fire" and this misfortunate "My shadow is your Home", with its eclectics: the amalgamation of cutting-edge technology with the classical music. And that's how the long story about the most inner parts of your soul, fear, anxiety, rebel, uncertainty, and maybe even hope, as it helps to find the exit from every tunnel, ends. To put it briefly: every maniac of electro-gothic vibe will surely derive a sort of perverted pleasure from the record.
Tracklist:
CD1
01. Dark Passages
02. Twisted Games
03. Everything Dies
04. Violence
05. Embracing Life's Fire
06. Amanda
07. The Dead Stare
08. Lilith
09. When Hate Takes Over
CD2
01. The End Of The Road
02. Black Magic Man
03. Bondage Is Not A Crime
04. Seasons Change - I Don't (Feat. Amanda Eisemann)
05. Dead Swan
06. It's Not Real
07. It's So Real
08. Door With No Handle
09. My Shadow Is Your Home (Extended)
10. Dark Passages (Extended)
11. Everything Dies (Extended)
12. Voluntary Confinement (Extended)
13. My Shadow Is Your Home (Ehron Vonallen Remix)
14. Embracing Life's Fire (Mortiis Remix)
Other articles:
Newest comments:
Noisemare



Writen at: 2010-12-29 10:08:39

Great review! Just bought the record after reading ;)

Pandora



Writen at: 2010-12-27 19:41:23

"Tłumacz: murd". Czy to znaczy, że moja recenzja jest przetłumaczona..?



---

Added: 2010-12-27 19:41:23

---


Ok, już to mam..