Leaether Strip - Yes, I'm Limited V (Limited 3CD Box Set)
Other CDs: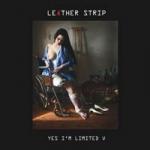 Leaether Strip
Add date: 2009-11-13
Label:
Alfa Matrix
Tracklist:
Disc 1 "compassion"
01. Compassion (quan Yin Edit)
02. Love Me Or Die
03. The Bears Aren't Sleeping Tonight
04. The Battle Of Cologne
05. Its Who I Am
06. Almost Too Much
07. Æighty Æight (us Mix)
08. Kill A Fætish
09. Don't Tame Your Soul (new Version)
10. Fluidity (tribute To Jean-michel Jarre)
11. Der Heizer (featuring Rummelsnuff)
12. Gothenburg Noir
Disc 2 "the Teenage Demos"
01. Dreaming (first Version)
02. Do The Dance
03. Don't Leave Me
04. Dreaming (2nd Version)
05. Complaining
06. Way Out In The Blue
07. You Don't Look The Same To Me (instrumental)
08. Northern Boy
09. Never Trust Anyone At The Carnival
Bonus Tracks
10. Genetic F*ckup (die Krupps Remix)
11. Don't Tame Your Soul (titans Remix)
12. Strap Me Down (project Pitchfork Remix)
13. Don't Tame Your Soul (autodafeh Remix)
14. We Are Dust (netz Remix)
15. We Are Dust (logic Eats Reality Remix)
Disc 3 - Free Exclusive Label Sampler "sounds From The Matrix 009"
01. Virgins O.r. Pigeons - Gotta Get Mad (v.1)
02. Acylum - Raise Your Fist
03. Implant Featuring Angelspit - Violence (studio-x Mix)
04. Leaether Strip - Compassion (studio-x Mix)
05. Psy'aviah - No Excuse
06. Aiboforcen - Twilight World (levitation Version)
07. Krystal System - I Love My Chains (voodoonight Version)
08. Tamtrum - F*ck You I'm Drunk
09. Essence Of Mind - A Part Of The Past (radio Edit)
10. Halo In Reverse - Pop Icon Puppets
11. I:scintilla - Prey On You
12. Helalyn Flowers - Hybrid Moments (alternate Version)
13. Dunkelwerk - Croatoan
14. Schwarzblut - Sterbelied
15. Mesmer's Eyes - 1747
16. Kant Kino - Tales
17. Unter Null - Visceral Venom