Sort by: Title


Add date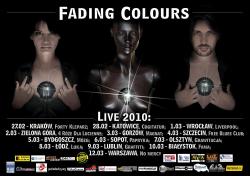 2010-02-28 /
Ankara
/ Reads: 3805
I was really curious about this concert. Fading Colours is a band, that I was musically associated with for years, almost since the beginning of their existence. Inseparably conjoined with the Castle Party Festival, yet while image of the festival itself Has strongly changed in the space of years, than...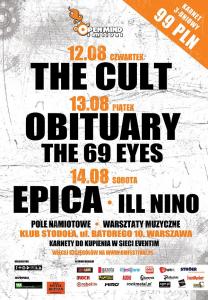 2010-12-02 /
Bašnia
/ Reads: 6053
Open Mind Festival, somewhat a "patch for a hole made of disappointment" after the failure of Hunterfest, which was eventually transferred from Szczytno to Warsaw, started on 12th August 2010 at Stodoła club. Even though it did not wind up as an open air fest as had been planned earlier,...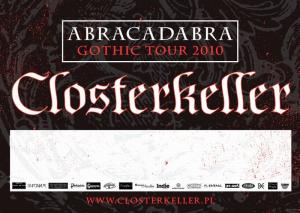 2011-03-04 /
Thalia
/ Reads: 5918
Once you come across with Closterkeller's charm, it entrenches as deeply as a root growing into its native soil. The strength is founded by the majestic voice of Anja Orthodox, enriched by the sound matter constructed on dreary but melodic, sometimes guitar tones. The Polish Goth Scene's black horse arouses...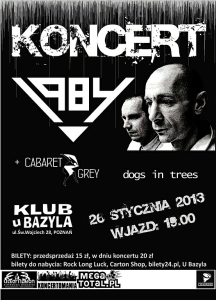 1984 + Cabaret Grey + Dogs in trees
2013-04-02 /
kantellis
/ Reads: 3577
Polska, Poznań, U Bazyla, 26-01-2013 Dogs in trees After more than an hour of delay, the first band came onto the stage at the almost empty hall. Fortunately, after the organizer's greetings, with the first sounds, a small audience came to the concert. Two musicians, guitarist and bassist, played...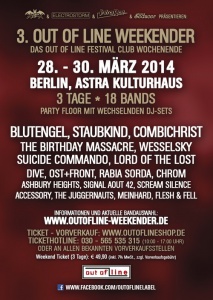 3rd Out of Line Weekender
2014-08-28 /
Magda Krasińska
/ Reads: 7399
Signed by Out of Line label, a weekend-long festival was one of the highlights of the musical spring. Unsurprisingly - under the wings of this particular label there is a number of popular and talented artists. Thus, during the three nights of the festival, there was to see and hear...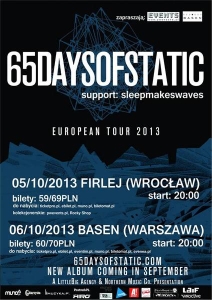 65DAYSOFSTATIC in Wrocław
2013-10-22 /
kantellis
/ Reads: 1988
sleepmakeswaves 40 minutes of well-crafted, coherent and smooth guitar and drums inferno. Downwards spiral into the abyss of existence, nightmares and seaside. The waves were there alright. A high tide, I'd say. And if it's sleep that makes those waves than the sound built on it must knock you...