Mono Inc. - After The War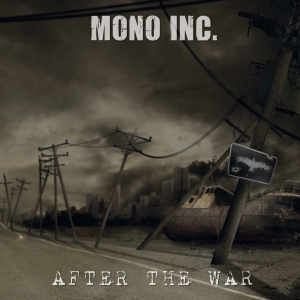 Reads: 2785 times
75%
Artist:
Galleries:
CDs catalogue:
There is no need to introduce Mono Inc. to independent German goth rock scene enthusiasts. The band was formed after a few other groups had broken up and it decided not to succumb to any mighty record labels' pressures. They give us the new quality and a breath of novelty, called by some fans 'mononorock'. The inquisitive ones point out the influences of The Sisters Of Mercy, Depeche Mode, Unheilig, The Cure or Placebo.
On May 25th the single-trailer 'After the war' had its premiere. It's a energy-laden mixture of electronic and goth music. The band didn't abandon the atmosphere created on the warmly welcomed previous album 'Viva Hades'. 'After the war' seems to be the music continuation of these achievements. Apart from the title track, appearing in two versions, we can also find two more new songs: 'The promise' and 'No more fear'. The album cover is reminiscent of an image of an postapocalyptic world. It may mislead the fans of heavier sounds as the album content is light and pleasant. Personally, I find it hard to listen to the album. The fans would kill me, but I think that the hit potential disappears between the tracks played in the car. However, for the loyal buyers of Mono Inc. records the album is a promise of unforgettable experiences and emotions during concerts. We'll have the opportunity to see them live on Castle Party.
'After the war' is a wonderful trailer of the forthcoming album, which will be released on August 17th. One fact is for sure – every one who likes 'Viva Hades' will get carried away by 'After the war'. Personally, I didn't like it that much, but the overall impression is positive and fans will definitely enjoy it.
Link to the video 'After the war':
http://alternation.pl/mono_inc._-_after_the_war,id,788,wideoklipy.html

Track list:


01. After the war
02. The Promise
03. No more Fear
04. After the war (extended Version)
Other articles:
Newest comments: