Mono Inc. - After The War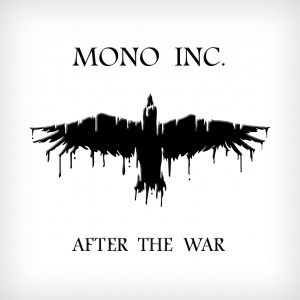 Reads: 2992 times
80%
Artist:
Galleries:
CDs catalogue:
Since 9 years a German band Mono Inc. has followed a basic recipe in making their music. Combination of Sisters of Mercy's goth with traditional rock from the time of its peak popularity invests their music with exceptional beatlesque touch, thanks to which, they carry away the crowds wherever they happen to play - exactly like the famous British group used to.
Even though no-one really expected departing from the usual formula, their new album "After The War", preceded by a single under the same title, was still highly anticipated. And rightly so, why to change something that works perfectly? The new album is a quintessential example of "monorock", group's unique style, seen as a breath of fresh air onto the dark independent scene. Even though it's odd to speak of innovative approach now when there is hardly any adjustment to the style on consecutive releases, "After The War", in spite of all its resemblances to "Voices of Doom" or "Viva Hades", enables us to feel this pleasant breeze anew.
The group's melodies are still characterized by this unusual lightness that lifts the listener few inches above the ground and the band still combines juicy riffs with equally tasty electronic bits (like "Grow", whose savour sticks on the pleased palate long after the feast). Furthermore, their music invariably resounds with harmonious vocals belonging to both genders. Albeit, there is much more consistency between particular songs, everything has been clasped together perfectly and at the same time each song is highly diversified within its structure. Suffice it to mention the almost eight minutes long (unusual for them) "From The Ashes" with its deliciously devised intermezzo.
Both the energetically loaded tracks and the ballads seem to get off lightly after the encounter with the listener. Addictive as an exclusive drug, "My Worst Enemy" and "Forever" present themselves in the best light, same for the second single - "Arabia", bringing to mind Sister of Mercy's "Temple of Love". However, I've got some complaints to "Wave No Flag" that sounds like a tune deprived of all character, taken out of some pop station broadcast.
Although I hadn't been largely enthusiastic about this material at the beginning, I'm glad I gave it a second chance. They say that love from second sight lasts longer.
Older fans are likely to be enchanted and it should attract new ones as well. There is something about this music – a positive transmission, yet with noticeable hints of sadness and melancholy, getting the listener into some kind of euphoric state of mind; the combination of anti-war anthems with Martin's romantic nature, calling for armistice, taken literally and metaphorically, saying that not everything is lost yet.
I've no doubts it's the best effort so far of a group that will perform soon in 2013 at "Castle Party" festival.
Tracklist:
01. My Worst Enemy
02. No More Fear
03. After The War
04. Wave No Flag
05. Arabia
06. In The End
07. From The Ashes
08. Grown
09. My Songs Wear Black
10. Forever
11. The Long Way Home
Other articles:
Newest comments: