Nachtmahr - Semper Fidelis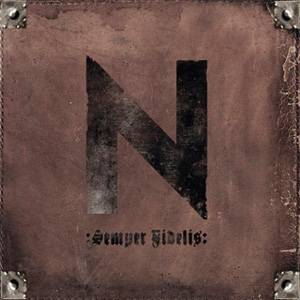 Reads: 3699 times
95%
Artist:
Galleries:
CDs catalogue:
Last topics on forum:
I fell in love with Nachtmahr after seeing them play at Infest 2010 and very very happily seeing them again in February. I had always been a fan of L'Âme Immortelle so it was rather refreshing to hear something new from Thomas Rainer. Joined on stage by his first Lieutenant Massimo Moscato and the Madchen in Uniform with one aim: to take over dance floors all over the world with their high energy industrial techno. He made his recording début as Nachtmahr in 2007 with the remix-heavy EP Kunst Ist Krieg in affiliation with Trisol Music Group.
Enemies the intro track on this album has a brilliant and poignant quote by Winston Churchill of 'You have enemies? Good. That means you've stood up for something, sometime in your life.' which sets the tone for the entire album in a brilliant original way. It also links very well into the next track of 'Wir schreiben Geschichte' which definitely packs a punch. 'Unbeugsam' is bouncy, energetic, you can't help but dance to it with a massive smile plastered across your face which makes it one of my favourites on this album. 'Rise and fall' is one of the only songs on the album sung in English which makes it stand out more and a totally different feel to the rest. The other is can you feel the beat, which also happens to be my other favourite. All I have to say about this one is listen to the lyrics because they are so true about Nachtmahr.
The other 5 tracks on this release are instrumental club tracks (not to say the rest aren't either!), each with their own personality. 'Verräter an Gott' I would put in league with the massive club hit of 'Katharsis'. Then you have the high-octane, very catchy 'Tanz des Blutes', which you would definitely be able to dance to... Very very hard.
I honestly don't think there's anything bad I can say about this album. Thomas Rainer has done himself proud with what I think to be his best work to date yet. Every single track you could dance to. Hard, dirty, fast, every single track is smothered in that highly infectious classic Nachtmahr sound that people love. This is a definite must-have album, possibly the best of this year.
Tracklist:


01. Enemies (intro)
02. Wir Schreiben Geschichte
03. Tanz, Major!
04. Unbeugsam
05. Verraater An Gott
06. Rise And Fall
07. Massiv
08. Can You Feel The Beat?
09. Tans Des Blutes
10. Rache
11. Trockenficken
Other articles:
Newest comments: