Nahtaivel - Midnight Sessions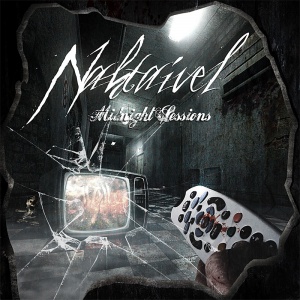 Reads: 1019 times
94%
So far, all that appeared under label of Brazilian Nahtaivel project, aroused extreme positive feelings both to horror industrial and electronic music admirers, as well as to laymen, who want to acquaint with diversity of the genre. In Nahtaivel works many seemed to find, which related projects often lack: moderation in a choice of means, by which musical experiment is performed. You have to admit, Midnight Sessions, despite minor glitches, maintained the trend of sustainable improvisation.
Just at the beginning Fernando N. surprises: Illogical Life is a track rather blending in rave climates of Prodigy, rather than a dark, post-industrial electronics. It is a strong, rhythmic work, thanks to which album already at the starting point gains a lot of speed. Tracks, based on electronically generated rhythm path on Midnight Sessions are not missing: He Was a Quiet Man, The Conquistador of the Useless, The Cymbals Player – all of them are revolving around a new inspiration, finding common understanding between solutions of two paths in electronic music. Moment of aligning rhythmic beats with synthesizer's nonchalance is particularly strong to hear in The Conquistador of the Useless - one of pearls in Nahtaivel works. In other tracks listener can easily find, what should be constantly present in each project of this type: whole range of strong beats and movie's samples, wisely composed with synthesizer's base. And among them phenomenal, mightily sounding The Storm is Coming, seemingly inconsistent, but programmed as an undisputed hit. Equally expressive is the title track - apocalyptic Midnight Sessions, in which electronic paths intersect with more vivid, heavy-metal binding. Intermission 1 - Human Nature, Satan Nature are the real concert wish list - inconspicuous, passing into a fast and danceable track. It is not differently in case of a lively, hard beat of Audition (great remix of the track is also available on the album). While Bugs gives listener rather standard set, Rosebud - End Credits enjoys and surprises, silences, and throws on a completely different surface of musical inspirations. What sort of - it is worth to check it for yourself.
Admittedly, Midnight Sessions enjoys with diversity and refinement. It is an incredibly polymorphic work – it harmonizers with listener, adapts to his needs and preferences. Nahtaivel is not closing tracks in a homogenous, specific sound - each of them has at least two, three levels of musical interpretations. Therefore each track can be liked - and not liked at the same time. There are minor stumbles. One of them is quite monotonous and poorly positioned on tracklist Bugs, which simply gets pale set together with all the wonders that has to offer Midnight Sessions. Obligatory item for all fans of the genre - a must have for all open to new, interesting experiences.
Tracklist:
01 - Illogical Life
02 - The Storm is Coming
03 - He Was a Quiet Man
04 - Audition
05 - The Conquistador of the Useless
06 - The Wheel of Vengeance
07 - The Cymbals Player
08 - Midnight Session
09 - Intermission 1 - Human Nature, Satan Nature
10 - Bugs
11 - Rosebud - End Credits
12 - Audition (Complex Mind remix)
Newest comments: