Massiv In Mensch - Neimand Weiss Was die Zukunft Bringt + Hands on Massiv Vol. II (2CD)
Other CDs: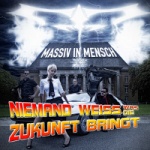 Massiv In Mensch
Add date: 2010-12-15
Label:
Advoxya Records
Tracklist:
Disc 1 "neimand Weiss Was Die Zukunft Bringt"
01. Prolog Mit Reiner Schoene
02. Teig Der Vernunft
03. Transformation Ii (featuring @vx And Mind.in.a.box)
04. I Love To Hate
05. Mich Besiegst Du Nicht
06. Against All Odds
07. Die Kybernauten
08. Like A Star
09. Kein Tanz!
10. Ein Teil Von Mir (featuring Tomas Appelhoff)
11. Ob Du Auch Kalt Bleibst (featuring Nebelgeist)
12. Lost In Thought (featuring Finja Battenberg And Micro Dalos)
13. Radical/relevant
14. Neimand Weiss Was Die Zukunft Bringt
Disc 2 "hands On Massiv Vol. Ii"
01. In Mensch Vs Supermassive Gravity (le-rav)
02. Never Trust The Outline (short Mix 2010) (le-rav)
03. Radical/relevant (stahlnebel & Black Selket)
04. Like A Star (trapped Voices Mix) (larva)
05. Hans Gruber (regenerator)
06. Teig Der Vernunft (endanger)
07. Ein Teil Von Mir (house Mix) (ben Gates)
08. Lost In The Thought (instrumental) (massiv In Mensch)
09. Dark Rave (trance Mix) ('o Phill)
10. Save My Workbench (bonus Track) (massiv In Mensch)