Nine Seconds - Agent Provocateur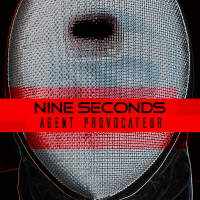 Nine Seconds releases "Agent Provocateur". It is the third album from this EBM trio. It contains potential club hits and a cover version of "Black Saturday". The production was done in collaboration with Stefan Poiss (mind.in.a.box). The song texts range from spy thrillers, over impossible love and psychological crossroads, to an homage to various horror films and to "1984". It is not a band that boringly hides behind keyboards. The experience of more than 100 live gigs as support or headlining act, they know how to give it their all on stage.
Available from 22 September 2017 by Infacted Recordings.
Tracklist:
1. Lost Love (Part I)
2. Somnambulist
3. Black Saturday
4. Plastic Fantastic
5. Counterintelligence
6. Anodyne
7. Agent Provocateur
8. Room 009
9. Borderland (3Rd Chapter)
10. All Beauty Must Die
11. Lost Love (Part Ii)
12. Somnambulist (X Marks The Pedwalk Rmx)
Newest comments: