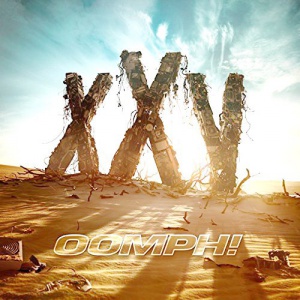 Reads: 3324 times
52%
Galleries:
CDs catalogue:
Last topics on forum:
Wait, wait a minute - which studio album from Oomph! it is? Ah, yes - the twelfth! Hardly any band can boast with such artistic achievements. Another thing is that "XXV" is sadly no longer the material to match predecessors. Could they be still gaining from the past achievements? Probably. But surely it is a material fatigue.
Because, in the end, how long can you play in the same way? Although we are dealing here with the Neue Deutsche Härte – genre, in which everything has been already said. For still gaining from the past achievements could be accused also such giants like Rammstein or Eisbrecher. The point is that both of these bands released two fold less records than Dero with colleagues...
Oomph! during all the years of their activity has better and worse periods; released in 2008 "Monster" album proved to all skeptics that even drawing from ripped off hundreds of times patents you can create something that sounds fresh. Anyway, starting from "Ego" you could observe a gradual increase in musicians' form, who just in these 7 years grew to record own, as it seems to me, the most interesting work.
While "Monster" is captivating - "Des Wahnsinns Fette Beute" is less brilliant; less rock, more EBM. It was not a step back - rather stylistic variation. And "XXV" is already a definite step backwards. Turning into symphonic rock could be good if there was not issued 3 years earlier "Die Hölle muss warten". Unfortunately, the new proposal from Oomph! is nothing more than a reheated pork chop. In addition, tasting very average...
Ok - there are some stronger moments - especially the first two songs, and "Spieler". They can be remembered a little longer than the rest. But what comes out of that if none of them could handle as a part of previous albums? Strings may introduce a slightly elevated mood - but it is clearly artificial sublimity. The music on "XXV" can be even characterized by asexuality, striving to create a climate – it destroys its substitutes. The whole is in addition very predictable. On the other hand it suits perfectly as a background music for everyday routine tasks. Looking from the perspective of artistic value - it is not an advantage.
I have an uneasy feeling that creativity of Dero, Andreas and Robert is run out for good. Or is it a plain calculation? It is known that "XXV" will be sold in Germany like hot cakes - after all the men have there whole crowd of loyal fans. But if those fans would be so afraid of slight change of convention? I do not think so... Although considering how the pop music market works... But whether Oomph! play pop? Apparently not, but they are popular...
If somebody will erase my memory and give me for listening the band's debut album I would say they evolve in direction of current Skinny Puppy ("Weapon" album). Well, all indicates that men let themselves to be carried away by commercialism. And there would be nothing wrong if they still record albums, as "Ego" – maybe not innovative releases, yet loaded with catchy melodies and some dose of emotions. On "XXV" you will not find it, so I do not buy the latest release from Oomph!. I am not convinced by their new artistic vision. Although, as they say - everything is for the people, but not everything for everyone. Maybe you, dear reader will be grabbed by this album... But sincerely I doubt it.
Tracklist:
01. Dein Retter
02. Alles aus Liebe
03. Jetzt oder nie
04. Als wärs das letzte Mal
05. Mary Bell
06. Jede Reise hat ein Ende
07. Unter diesem Mond
08. All deine Wunden
09. Fleisch und Fell
10. Tick Tack
11. Nicht von dieser Welt
12. Spieler
13. Zielscheibe
14. Lesi ganz Leis
Other articles:
Newest comments: