Organic Cage - Brain Surgery Machine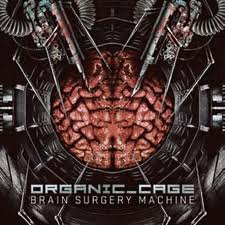 Reads: 2647 times
69%
Artist:
CDs catalogue:
Now is time to check what is going on with familiar to me project called Organic Cage. Announced 12 tracks and two remixes sound very promising. Hunger for another portion of mechanical rasps in the new version served on the album can be described as pretty good, but first things first...
First song on the list is 'The Crawling' – at the beginning series of unrelated rasps, which in time are arranged into a coherent whole surprise, however, they are a great prologue to the rest part of the material. It passes in a piece called 'Extreme Paranoid Conditions' which from the beginning is a bomb of energy and great dose of beat. Strong piece with interesting tempo changes in the meantime, without a doubt diversifies the gray day. It passes smoothly into track called 'Eat Your God', which carries a slightly lower dose of freshness, but technically it is very good and does not differ from its predecessors. A little strange to me seems that this song is advertised as 'dance floor bomb', however, whether this is true I leave it to be judged by the audience. Next item is 'Planet Starbucks' very different from the earlier song with the pace. Strong entry slowly develops into rest of the song which can annoy, but if we can get through this we can really expect a promising piece with good samples. Next stop on this musical journey is 'In Your Hextended Hatework' which promises to be extremely slow, but very energetic and diverse. With great pleasure we can listen to the heavier beat and enjoy a good piece of electronics. Next track is announced as slower one 'The Grudge Of Euphoria'. The pace really slows down and great samples opening the track give it a proper atmosphere. Technically it is a very good track and it has the unidentified element of feeling suspended on the entire album. Like its successor, "Der Letzte Macht Das Licht Aus'. The only difference is that the next "hit of the dance floor", announced in a note has the chance to be one. Strong, uncompromising beat and samples form almost an explosive mixture. Until now, no doubt it is in my opinion the strongest point of the album. However, the 'Wishing Hell' as next in line is not a drawback - strong, energetic track with a little bit of slower pace gives a lot in diversity it is also worth your attention. However, you may say that praise is endless and at this point in the list jumps 'Endgegner' piece. Much slower than its predecessors, kept in the mood of the entire disc, however, in my opinion it is not very successful. Despite the interesting diversity and 'breaking beat' in the middle of track it is so far probably the weakest point of a very good album. However, the next track is title one 'Brain Surgery Machine' which is trying to erase previous small drawback. And it succeeds brilliantly. What more to add - another strong point worth listening. Next in line is the song 'Mitten Ins Gesicht (Right Into Your Face)' - from the very beginning flooding with a wave of really good music. Strong, powerful and breaking everything up to now, we have listened to on this album. It is simply great and worth recommendation piece with perfectly matched samples. Almost with regret not at the very beginning... The last except remixes is composition 'The Final Destination' which is a good contrast to its predecessor. Slow and atmospheric, but not the worst number. Really good final material.
At the end of the album there are two aforementioned by me remixes - 'Jack Daniel'z' from Chainreactor and 'Endgegner' from Revolution State. Both projects brought a breath of freshness to these tracks and are worth noting. 'Jack Daniel'z' is fast and energetic and about 'Endgegner' I can only say that I personally like it more than the original, which is very difficult to achieve. Very, very pleasant surprise.
Making a quick summary of the album 'Brain Surgery Machine' I can say that despite many weak moments it is worth listening to. The album as a whole is very consistent and promising. Not only fans of Organic Cage, but every industrial enthusiast should listen to it and get their own opinion about it, which can be sometimes difficult.
Tracklist:
01) The Crawiling
02) Extreme Paranoid Conditions
03) Eat Your God
04) Planet Starbucks
05) In Your Hextended Hatework
06) The Grudge Of Euphoria
07) Der Letzte Macht Das Licht Aus
08) Wishing Hell
09) Endgegner
10) Brain Surgery Machine
11) Mitten Ins Gesicht (Right Into Your Face)
12) The Final Destination
13) Jack Daniel'z (Drunk by Chainreaktor)
14) Endgegner (Revolution State Remix)
Other articles:
Newest comments: