Pati Yang - Wires And Sparks Tour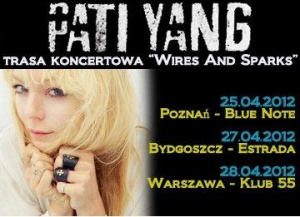 Reads: 64792 times
Files catalogue:
Artist:
Galleries:
Last topics on forum:
In the club Blue Note in Poznań perfomed
Pati Yang
- the first lady of the electronic scene. The concert was part of the tour promoting her new album 'Wires and Sparks'.
The first person who shyly entered the stage was
Katarzyna Krawczyk
(Andy), with whom
Pati
created a well tuned duet that evening. The artist began her performance with energetic rendition of 'Let It Go'. She easily came into contact with the large audience - the club was filled to capacity. She interwove songs with anegdotes and talking with fans. Although, she performs on stage for many years, she couldn't hide her emotions.
'Music is a way of communication, straight to the heart and that's why it will always move me.'
With her performance she confirmed my opinion of her as of the musician, who knows exactly what she wants and is able to work out her vision perfectly. She also showed that she is a down-to-earth person who isn't afraid to reaveal her emotions on stage.
The fans of Pati's older works may have been disappointed, because she performed the majority of the material from the new album.
Setlist:

1. Let It Go
2. Wires And Sparks
3. Hold Your Horses
4. Kiss It Better
5. Red Hot Black
6. Revolution
7. Summer Of Tears
8. Near To God
9. Darling
10. Breaking Waves
11. Take A While
12. Over
13. Soul For Me
The best continuation of such an upbeat concert was a night walk in the brisk evening air listening to the sounds of the sleeping city.
Event:
Other articles:
Newest comments: