Percival Schuttenbach - Svantevit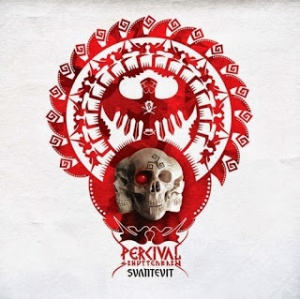 Reads: 2901 times
95%
Artist:
Galleries:
CDs catalogue:
Apprehension grows every time our favorite band releases a new record. Could it possibly live up to the quality of its predecessor, what if they'll wander too far from their roots? Such doubts loomed large in my head while I was waiting for the release of Svantevit. Since there are several projects that Percivals participate in, each of them different in terms of style and instruments exploited, their horizons seem to expand several times quicker. The projects do not represent a pure dark independent genre and there is no question about that, yet the group's idiosyncratic traits like the emotional load and healthy dose of darkness are incontrovertibly present.
The "Postrzyżyny" EP - this LP's forerunner - announced a big leap in the direction of 80s metal. Fortunately the individuality and ideological foundation of Slavic culture weren't harmed in the process. I think we can boldly call this a conscientiously thought-out concept album. Eight separate tracks/stories with spaces between them masterfully filled with interludes, these in turn are built in a way to help even a person without any historical knowledge become a part of these legends. One we can say for certain -praise be to Svetovid, the god of war, fertility and harvest.
It's not easy to review the elements of this album separately, but let's try. The first three pieces are revamped versions of tracks known from the abovementioned EP and they're by far a display of power and energy the band is bursting with on stage. Hatred and vengeance are the dominant themes but fear not, it's all for a good cause. "Satanael", amplified and with detectable satanic inclinations, is a standout. Percussion, guitars, cello and vocals - an absolute black mass. One can hardly shake that one off when the next track steamrolls in. The title track "Svantevit" is a real chant on Slavic faith and manifestation of freedom. However, my definite favorite - and possibly due to my weakness for screaming Russian girls – is "Wodnik". The lyrics broadly describe nature which is a distinctive trait of folk metal, furthermore, Masha from Arkona makes a guest appearance here. Although the record faces us with another tragedy, it is by no means depressing, instead it spurs us to battle the adversities of fate. In each following track outstanding lyrics interlace with powerful riffs and even better vocals. "Wiking" for instance, puts us in lethargy by rocking us with its calm interludes only to prompt a sudden wake-up a moment later. I cannot resist a feeling that "Tryzna" is reminiscent of Jelonek in some parts. The only aspect of this material one can find fault with is the excess of "alien" voices, but after a dozen listenings, one can get used to even that.
Once again the bar has been raised a meter or so, the instruments work in perfect harmony and don't overshadow each other. There are more elements that add spice like the sounds of nature, day-to-day life, whispers and screams. A good deal of darkness, mystery and beautiful women vocals altogether are the best showpiece of this record.
I certainly recommend Svantevit to those who aren't familiar with folk metal but wish to learn some of our history and step into the world of magic and ancient warriors. The atmosphere summoned by Percivals makes you want to get away from the grey city and again discover the beauty of forests and fields. Who knows, maybe the Slavic deities are awaiting us there.
Tracklist:
01. Okrutna Pomsta
02. Satanael
03. Svantevit
04. Wodnik
05. Bitwa
06. Upiory
07. Wiking
08. Tryzna
Other articles:
Newest comments: