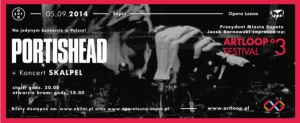 Reads: 2190 times
Galleries:
On Sept. 5th, 2014 Sopot's Opera Leśna (Forest Opera House) held an extraordinary show of the triphop legend
Portishead
. The only appearance of the Brits in Poland, ending their tour, took place on the occasion of the 3rd edition of the ARTLOOP Festival, which combines visual arts, design and music. The stars were supported by the Polish nu-jazz duo
Scalpel
, whose appearance was enriched with live instruments and a VJ.
Portishead was formed in 1991 in Bristol and is one of the few bands that defined the characteristic "Bristol sound". The band was founded by multi-instrumentalist Geoff Barrow and singer Beth Gibbons, who still constitute the backbone of the group. Musicians have released three albums so far: Dummy (1994), which includes their biggest hit Glory Box; three years later they released the album entitled Portishead, after which the band went on hiatus until 2005. After returning to the scene, in 2008 they released the album Third, containing, among others, the characteristic song Machine Gun.
The show at Opera Leśna, of course, could not miss those hits, as well as other compositions spanning through all the band's releases. The performance was held with subdued light, only a few spot reflectors and intriguing visuals drew the musicians from the darkness. Vast scene of the amphitheater caused the seven performers to be widely spaced from each other and from the audience, creating a feeling of isolation and sterility. It made the concert an occasion to uptake and experience emotions flowing from Beth Gibbons' unique vocals rather than participate in the show. There was, however, a lot of energy, which could be felt best during Machine Gun, when throbbing, piercing bass sound brought almost perfect opera house sound system to the edge of its capacity. In conjunction with the thrilling, anti-war visuals it gave the piercing and moving impression, not only emotional but also, literally, physical one. The performance can safely be called perfect, but the atmosphere of alienation and lack of close contact was not to the liking of all. Nearly one-and-a-half hour concert ended with two encore pieces, leaving some sensation of insufficiency.
The Brits' concert was preceded by a performance of Wrocław-based producer duo
Scalpel
, i.e.
Marcin Cichy
and
Igor Pudło
(aka
Igor Boxx
). Musicians performed with the accompaniment of live instruments - keyboards operated by
Joanna Duda
and the drummer
John Młynarski
, regularly both members of IDM duo
J=J
. On the stage there was also present, responsible for the visuals,
VJ Spectribe
.
Scalpel
is a well known brand on the Polish ambitious electronics scene, and at the same time they are probably the only Poles in the stable of the legendary Ninja Tune label. No wonder, that during their concert the scene gave the impression of total professionalism. The compositions on the edge of jazz and IDM were perfectly complemented with tempestuous percussion, creating a powerful boost of energy.
Other articles:
Newest comments: