Projekt 26 - Violets and Violence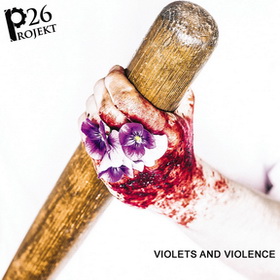 The german brothers Nico (Drums) and Timo T. (Vocals) established Projekt 26 back in 2013, when they successfully merged the raw power of Oldschool-EBM and catchy Synthpop-melodies, creating their own unique and exceptional sound.
Since 2015, Cyril M. (Synthesizer) and Tim B. (2. Synthesizer), complete the band as live-members to transport the energy of the sound properly on stage.
Projekt 26 already played Familientreffen Sandersleben XI and supported several well-known bands like Spark!, The Invincible Spirit or Velvet Acid Christ.
Available from 8 September 2017 by EK Product.
Tracklist:
01. Intro
02. Wake Up
03. Blood for Blood
04. God Dag
05. Violets and Violence
06. Burn
07. The Hunter And The Prey
08. A New Beginning (feat. Pantser Fabriek)
09. Stars and the Moon
10. Destiny
11. Riot Time
12. Stockholm Syndrome (feat. Plastic Noise Experience)
13. Back to the Future
14. Satellit 2016
15. Blood for Blood (Oldschool Union Remix)
16. Riot-Time (SadoSato Remix)
17. Stars and the Moon (Loewenhertz Remix)
Newest comments: