Re:Covered Volume 2 - A Tribute to Depeche Mode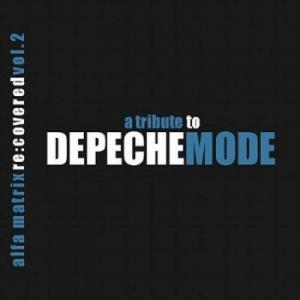 Reads: 4033 times
70%
Artist:
Galleries:
CDs catalogue:
Last topics on forum:
Here comes another edition of the release paying homage to the new romantic geniuses. Depeche Mode is one of the most frequently covered bands, however, in most cases, poorly. I suppose that Alfa Matrix, after quite good sales results that Vol.1 achieved, decided to make up another prescription for a financial success and voila: Alfa Matrix Recovered Vol.2 – A Tribute To Depeche Mode. In comparison to the previous edition, the production is praiseworthy – it is neither clumsy nor garage-like, on the contrary, everything is neatly recorded.
Both the opening Sea Of Sin, Technoir – not note for note reproduced and perfect for an introduction, and atmospheric Everything Counts – Unter Null are well-considered compositions, reflecting the specificity of each performer. On the other hand, Implant in Now This Is Fun dug up the old, good DM and wove in a lot of nostalgia. Virgins O.R. Pigeons – People Are People, has been tuned up and now it's perfect for a dance-floor craziness. Surprisingly, female vocals suit Rush well (in contrast to I Want It All), I expected a dissonance, but Helalyn Flowers scratched and bit in right moments. However, Tamtrum with Sympathy stands out in a negative way. DM's hymn Walking In My Shoes performed by Halo In Reverse, in my opinion surpassed performers' capabilities. Although they didn't ruin it completely, it lacks that sinking feeling in the chest and Dave, of course. On the other hand, listening to Little 15 – Schwarzblut or Personal Jesus – Haushetaere, you feel like killing somebody. Fortunately, Master And Servant – Krystal System appears – the hit of both editions. The final song of the second CD Fools – Alien Vampires is a real kick, not much of DM left, but still high in my ranking. Acylum overdid it in World in my eyes, whereas Black Celebration and Nothing's Impossible by Kant Kino are almost impossible to listen to – maybe VIVA would swallow it, but not me (who gave them so many songs on this record anyway?!). The lack of new ideas also shows in In Your Memory by Leaether Strip. While listening to this album I noticed that artists obstinately misuse the choirs option in synthesizers.
Albums include some unfortunate moments, but they shouldn't discourage you from trying it out (and I mean it as an avid DM fan). However tacky it may sound, the albums are a bridge between staunch DM fans and the enthusiasts of more alternative sounds. Even if half of it is impossible to listen to, the rest is interesting. Actually, one album would be enough.
Track list:
CD 1

01. Technoir - Sea Of Sin
02. Psy'aviah - Dream On
03. Unter Null - Everything Counts
04. Acylum - World In My Eyes
05. Kant Kino - Black Celebration
06. Leaether Strip - In Your Memory
07. Amgod - Wrong
08. Neikka Rpm - Get The Balance Right
09. Implant - Now This Is Fun
10. Plastic Noise Experience - New Life
11. Virgins O.r Pigeons - People Are People (miyuki Mix)
12. Razorfade - Nothing
13. Essence Of Mind - Puppets
14. Helalyn Flowers - Rush
15. I:scintilla - I Want It All (eom 2011 Mix)
16. Tamtrum - In Sympathy

CD 2

01. Komor Kommando Featuring Jonas Groth - Fly On The Windscreen
02. Diskonnekted - To Have And To Hold
03. Kant Kino Featuring Ayria - Nothing's Impossible
04. Armageddon Dildos - Clean
05. Halo In Reverse - Walking In My Shoes
06. Schwarzblut - Little 15
07. Diffuzion - Here Is The House
08. Haushetaere - Personal Jesus
09. Gaytron - Tora! Tora! Tora!
10. Leaether Strip - No Disco
11. Kant Kino - Behind The Wheel
12. Krystal System - Master And Servant (aiboforcen Mix)
13. Malakwa - People Are People (mlk Lasttrip Mix)
14. Studio-x - I Feel You
15. Alien Vampires - Fools
Other articles:
Newest comments: