Sort by: Title


Add date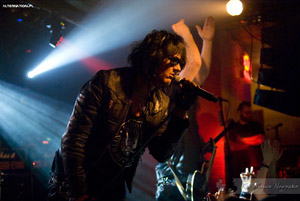 The 69 Eyes in Wrocław
2013-07-05 /
kantellis
/ Reads: 2145
Arriving to Klub Alibi just before The 69 Eyes were to come onstage, I was worried if I'll get a good place to take photos. However, there were not so many people in front rows, so picking up a place was not a problem. It's become a bit of...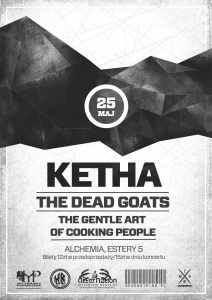 Ketha + Dead Goats + The Gentle Art Of Cooking People
2013-06-23 /
morrigan
/ Reads: 1585
The name of Alchemia Club in Cracow brings to mind secret corridors of nightmarish castles and the atmosphere shrouded in medieval darkness. Just like those castles the club has its own secret – narrow staircase, airless dark, tight passages and here we are – in quite roomy place adjusted to...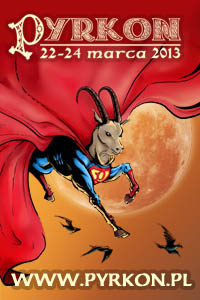 Pyrkon 2013
2013-04-29 /
Jenna_Malique
/ Reads: 3412
This year PYRKON fantasy convention has surpassed all expectations of both participants and organizers. Already on the first day of the convention the number of visitors exceeded the sum of all admissions from the year before, only to grow to twice as much by the end. Poznań International Fair was...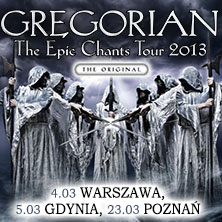 Gregorian
2013-04-13 /
Magda Krasińska
/ Reads: 1521
Is it possible to go to one concert and to hear the hits of such stars as Led Zeppelin, Rammstein, Queen, Leonard Cohen, Evanescence and U2? Of course, if we attend to the concert of German choir Gregorian. If, additionally, we like to observe amazing lightshow together with a little...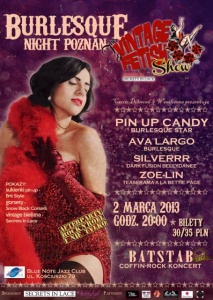 Vintage & Fetish Show Vol. 2
2013-04-08 /
VMPSelene
/ Reads: 1942
On Saturday night, 2nd March 2013, in Blue Note Club the second edition of "Vintage&Fetish Show" took place. The organizers, Waniliana and Carrie had prepared a real feast for eyes. It was hot just right from the start. It was all thanks to Pin Up Candy who performed first as...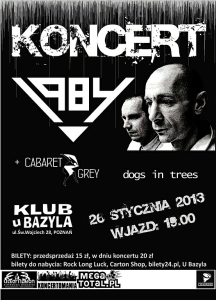 1984 + Cabaret Grey + Dogs in trees
2013-04-02 /
kantellis
/ Reads: 2644
Polska, Poznań, U Bazyla, 26-01-2013 Dogs in trees After more than an hour of delay, the first band came onto the stage at the almost empty hall. Fortunately, after the organizer's greetings, with the first sounds, a small audience came to the concert. Two musicians, guitarist and bassist, played...