Sort by: Title


Add date


Castle Party 2005
2005-10-09 /
Dobermann
/ Reads: 26891
Let me start by saying that this year I didn't have the chance to spend the whole three days, just two, at the CP. As you probably realize, in everyone's life there comes the time of hard work and so-called holidays. However, I'm not going to focus on holidays…. ....
M'era Luna 2005
2005-10-09 /
Dobermann
/ Reads: 59812
We were supposed to set out on M'era Luna Festival at 9 p.m., but the bus was delayed for it was going from far away and unfortunately stuck somewhere on the way. I wasn't surprised by that anyway since so far I've always been late on every of the festivals...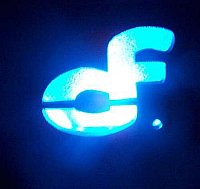 DM convention + koncert Digital Factor
2005-11-27 /
Attack
/ Reads: 17044
On 26th November 2005 in the club " MayDay" in Głogów the next Depeche Mode fans meeting took place. The event was organized by the FC Little Pleasure. This time the meeting was enriched by the concert of German group EBM - Digital Factor. We got to the club quite...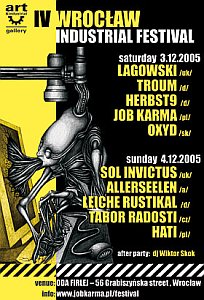 Wroclaw Industrial Festival IV
2005-12-12 /
katakan
/ Reads: 13181
Day one The forth edition of Wroclaw Industrial Festival – the greatest industrial event in this part of Europe - presented its exhalation in the club "Firlej", located in Wrocław. Alike one year ago, the audience had a chance to see ten, extremely interesting music projects. Despite the...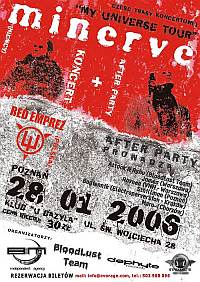 Minerve + Red Emprez
2006-01-31 /
Nathashah
/ Reads: 8449
The club "u Bazyla" heat up again! Nobody has ever expected that so many people would come! Well, apart from omnipotent organizers, of course. The thing I knew though, was that RED EMPREZ would show high quality music. There was no other chance! Two gentlemen's project is a unique combination...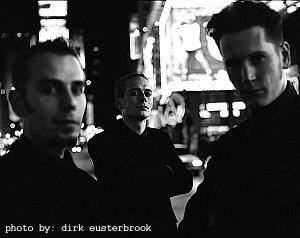 Covenant
2006-02-20 /
LeNa
/ Reads: 8407
I was wondering where to start the coverage of this unique [at least for me] event that is concert of Covenant supported by Rotersand and Client. ... I believe I shall start right from the beginning . It was quite late when we set off from Poznań and that was...