Sort by: Title


Add date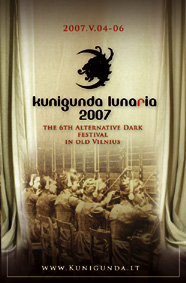 Kunigunda Lunaria Festival 2007
2007-05-19 /
Mark Nox
/ Reads: 10905
Spiritual Front, Roger Rotor, The Last Days of Jesus, Gothika, Desdemona, Forgotten Sunrise, Strops, Ataka, Saprophytes, Vic Anselmo, Diffuzion, Elektrogott, Strangers in Avalon, Comedia d'El Arte, Svefn-G-Englar, Atvejis. 04-06 May 2007, Vilnius, Lithuania. Many things were going on for these three exceptional days: many guests arrived (even from Japan)...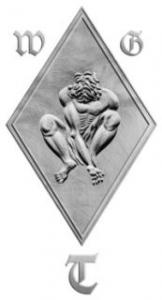 Wave Gotik Treffen 2007
2007-06-12 /
khocico
/ Reads: 34780
The season of spring/summer festivals open! As the first strong attack is, as usual, Wave Gotik Treffen - the biggest and the most popular of the said events, presenting the richest line-up. The current year didn't differ from the previous that much, however, the first thing that came to my...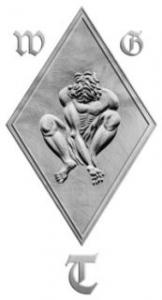 Wave Gotik Treffen 2007
2007-07-02 /
Ultima
/ Reads: 24778
After we got to Leipzig and did all the organizational work we went to look around the festival area and get our ears off on the music and our eyes on extravagant people and the visual aspect of the concerts. The first concert I saw at WGT at...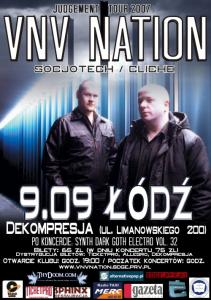 VNV Nation + Cliche + Socjotech
2007-10-05 /
Attack
/ Reads: 9513
Thanks to the Koldcure Agency from Lodz the trip from Poznan to VNV Nation concert was successful. Because of the communication service it was the only reasonable way to go by the bus the agency had organized. Our crew – altogether 16 people – quickly and efficiently made its way...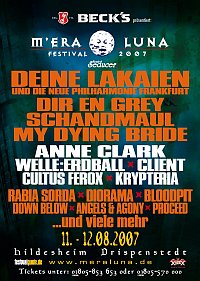 M'era Luna 2007
2007-10-09 /
Dobermann
/ Reads: 31055
As every year Friday evening we arrived (with many amusements connected with the bad weather) at my favorite German festival. As it was Friday we quickly made our tents ready and went to Before Show Party but unfortunately the journey exhausted us and we died like flies and went to...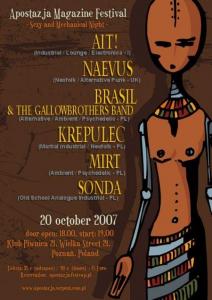 Apostazja Magazine Festival - Sexy and Mechanical Night
2007-11-07 /
arthur
/ Reads: 8259
Mechanical for sure but I have no idea who signs under the first part of the party name; maybe Tairy Ceron with his "flesh tunnel piercing" and swastika on his back? But let's get back to the beginning. Apostazja Festival was introduced by gentlemen from SONDA project. In...