Sort by: Title


Add date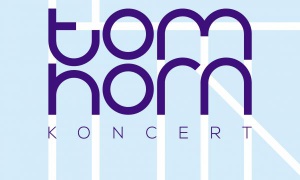 Premiere Concert - Tom Horn
2013-12-14 /
Lady Dragon
/ Reads: 1949
On Friday, 4th October, in one of the clubs in Wrocław, the premiere concert of Tomasz Rożek took place. It announced the first artist's album released after 10-year break. The artist uses the pseudonym of Tom Horn. Guest Room is released by one of the German factory. This electro pop...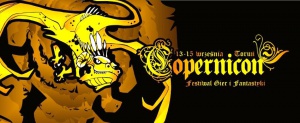 Copernicon 2013
2013-12-13 /
Closter
/ Reads: 3016
Copernicon 2013 Before convent After the previous Copernicon, which was an overwhelming pride of Toruń, there was no doubt, the next will be prepared with even greater momentum. Fanpage long before the beginning of the event lived by competitions and from day to day there were more and...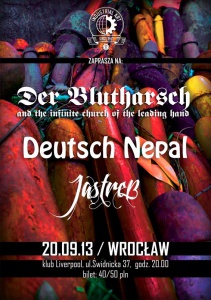 Der Blutharsch in Wrocław
2013-12-11 /
Jenna_Malique
/ Reads: 1396
It'd be difficult for a WORSE concert than the one served by "Der Blutharsch and Friends", it'd be hard to call it differently, seeing the frustration of the audience. And actually on that this coverage could end, but it's hard to resist the temptation to speak out loud about certain...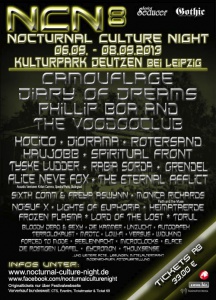 Nocturnal Culture Night 2013
2013-12-07 /
pornocreep
/ Reads: 97232
Last rays of warm sun break through the tree crowns, from which leaves already fall to the ground creating a colorful mosaic. A sign that autumn is approaching, along with which the summer festival season is coming to an end. One of the last events of the festival time is...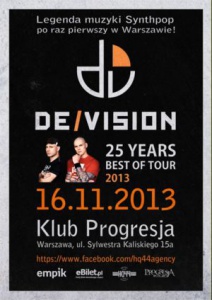 De/Vison + Das Moon + Janosch Moldau
2013-11-25 /
Sayuri vel PhotoKAmour
/ Reads: 2566
Saturday evening on November 16, Warsaw. Cold, dark, windy and unpleasant that you even would not go out of the house. But there were good reasons, to go on that day to one from the city sidelines clubs - Progresja. The magnet was performance of European pioneers of the electronic...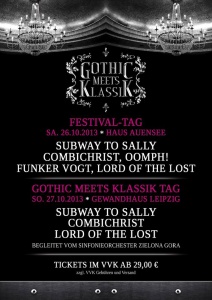 Gothic meets Klassik 2013
2013-11-21 /
Magda Krasińska
/ Reads: 5657
The second edition of the Gothic meets Klassik festival was held in Leipzig on 26-27 October 2013. On the first day, in standard club conditions, were successively presented to fans musicians from Lord of The Lost, Funker Vogt, OOMPH!, Combichrist and Subway to Sally. In principle the only drawback I...