Sort by: Title


Add date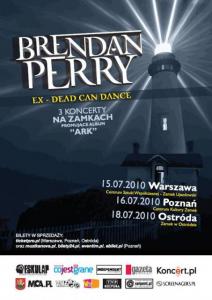 Brendan Perry
2010-10-11 /
Thalia
/ Reads: 2742
A name of Master is used to describe a person who almost achieved perfection in particular field. Whereas in music with Master's name you nominate icons, vocalists, guitar players, whole formations which by gaining countless throngs of fans proved that through the sound you can tell more than through image....
Castle Party 2005
2005-10-09 /
Dobermann
/ Reads: 27325
Let me start by saying that this year I didn't have the chance to spend the whole three days, just two, at the CP. As you probably realize, in everyone's life there comes the time of hard work and so-called holidays. However, I'm not going to focus on holidays…. ....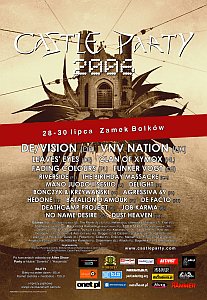 Castle Party 2006
2006-08-10 /
Ultima
/ Reads: 60803
The 13th edition of Castle Party left a strange sense of insufficiency among the Festival goers. The concerts were better than those last year what doesn't change the fact that "something was wrong". I won't complain from the very start and describe the action in Bolków at the last weekend...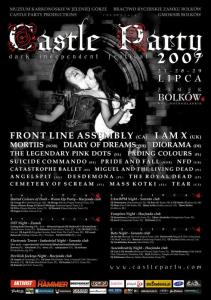 Castle Party 2007
2008-03-14 /
alphar
/ Reads: 66822
When I'm ending to write the review the incense stick dies down in an ashtray. I relax my palm muscles, fall in the armchair and turn on the recent IAMX album. This year's edition was a fine experience for me though perhaps not as far as the music...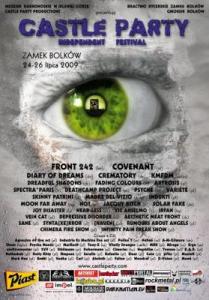 Castle Party 2009
2009-10-20 /
Thalia
/ Reads: 19288
Poland has no intention of falling behind. Our most prominent dark independent music festival is getting more and more like other European events of this kind. The 2009 Castle Party was an extraordinary gothic adventure, and Bolków (the festival's venue) could be referred to as the Polish town of darkness....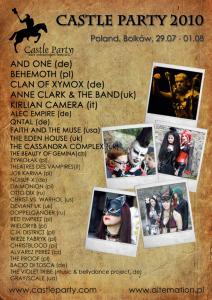 Castle Party 2010
2010-10-20 /
Thalia
/ Reads: 16602
The festival fever figuratively, as well as literally - due to the searing heat, infected Bolków for a few days. It was the 17th edition of Castle Party. Although the muggy air was really getting to everyone, over 5000 fans from the whole Poland, as well as other countries, came...