Sort by: Title


Add date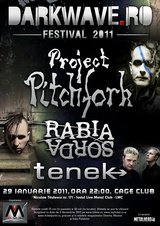 Darkwave.Ro Fest 3
2011-02-11 /
Dorel Tudor
/ Reads: 4680
The evening of 29th January 2011 prepaired to the Romanian goth fans unforgettable moments. The event was organized by Viva Music and the choosen place was Cage Club in Bucharest and the line-up meaned: Project Pitchfork, Rabia Sorda and Tenek. Starting 9 p.m. people enjoyed the club's goth atmosphere, the...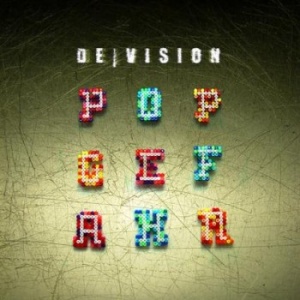 De/Vision, Reactor7x + Hot Rain
2011-02-25 /
ScarabBonku
/ Reads: 3695
I promised to write a coverage from the show of De/Vision in Szczecin, yet, more or less at the same time, an idea of creating a sort of a column occurred to me, hence… a word-mixture is being served. When one is intending to play at a particular kind...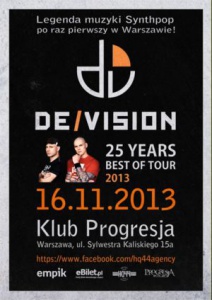 De/Vison + Das Moon + Janosch Moldau
2013-11-25 /
Sayuri vel PhotoKAmour
/ Reads: 2769
Saturday evening on November 16, Warsaw. Cold, dark, windy and unpleasant that you even would not go out of the house. But there were good reasons, to go on that day to one from the city sidelines clubs - Progresja. The magnet was performance of European pioneers of the electronic...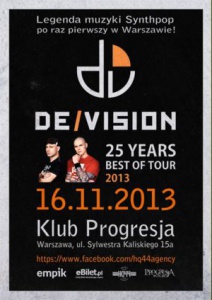 De/Vison + Das Moon + Janosch Moldau
2013-12-21 /
Wiewiorek
/ Reads: 3464
Exceeding speed limits established by law we are heading to the capital city, where just in a few hours a long awaited appearance of one of the biggest stars of the synth pop genre is going to take place. We are reaching the area belonging to the Military Technical Academy...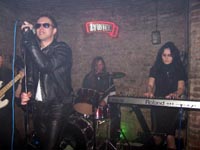 Deathcamp Project i The Act
2005-10-09 /
Attack
/ Reads: 9681
On the May 18th - during mini festival in Cafe Colomb in Poznan, there was another, after a year long break, concert of our favourite Poznan band The Act. With a new musiscian, bass guitarist, Daniel, Iza, Anton and all the rest have shown us a piece of good...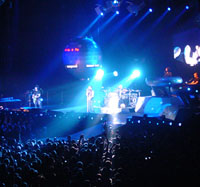 Depeche Mode
2006-03-16 /
Attack
/ Reads: 11790
On the March 14th - on the biggest polish concert stage in a hall - Spodek in Katowice - over 9000 fans could see and hear live Depeche Mode - the legend band from english city Basildon. Tickets for this show were sold out many months before the show, and...