Sort by: Title


Add date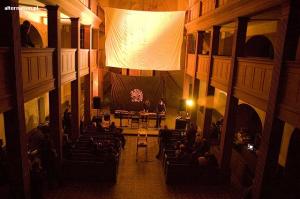 Temple of Silence 2
2006-09-22 /
Dobermann
/ Reads: 14177
As we know, the aim of the coverage is to reproduce what we see during a given event, yet music of ToS is extremely difficult to describe. You have to feel it, see it and taste it to appreciate. My words can only sketch a general view of what I...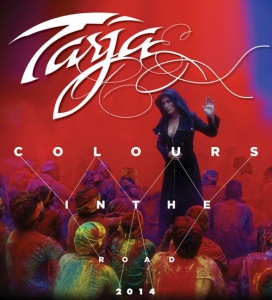 Tarja Turunen in Cracow
2014-12-16 /
morrigan
/ Reads: 1484
As a part of "Colours in the Road" tour Finnish vocalist Tarja Turunen visited Poland to give four concerts including one in Cracow's club Studio on 9th November. Tarja, in a good shape and with full professionalism, made the audience go crazy. When it comes to the audience, the place...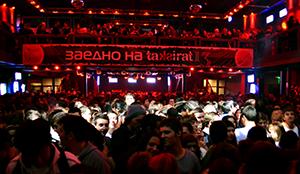 Taksirat Festival 2011, Skopje, Macedonia
2012-01-27 /
ka.joz
/ Reads: 3582
The Balkans somewhat are more often associated with NATO saving interventions, mines, tanks, wilderness and other similar attractions than with good music. Yet, Amy Winehouse in Belgrade, Death in June in Zagreb and recently Taksirat Festival 13 in Skopje. Taksirat is probably the most important (and for sure the most...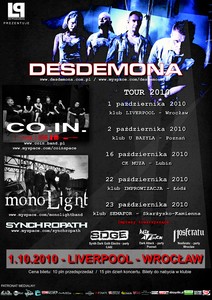 Synchropath + monoLight + Co.In. + Desdemona
2010-12-22 /
nocturnal moth
/ Reads: 4735
Four Polish alternative music scene bands have started their Autumn tour in the Liverpool club in Wroclaw on the 1st of October 2010. Desdemona, Co.In,, Monolight and Synchropath have planned 5 performances together next month in five cities (Wroclaw 01.10, Poznan 02.10, Lublin 16.10, Lodz 22.10, Skarzysko Kamienna 23.10)...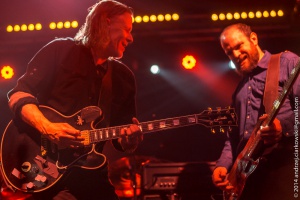 Swans and 3FoNIA in Gdańsk
2014-12-04 /
MoeMuhovitz
/ Reads: 2352
On Dec. 2nd, legendary American band Swans played at the club B90. Their work was always associated with sound experiments and it is impossible to categorize it. Swans presented in Gdańsk nearly three-hour gig and the music that flowed from the stage almost crushed the audience by its heaviness but...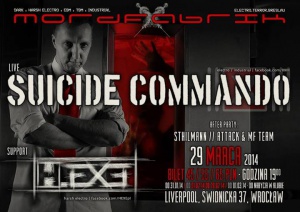 Suicide Commando and H.exe on Mord=X=Fabrik
2014-04-05 /
RobertSaligia
/ Reads: 3422
The next edition of the annual Wrocław's event Mord=X=Fabrik that took place in the club Liverpool, this time on Saturday, March 29, attracted crowds. It is hardly surprising. 2014 year thanks to that in Polish concert history will be remembered as the date, when for the first time in the country...