ROME, Special show in Luxembourg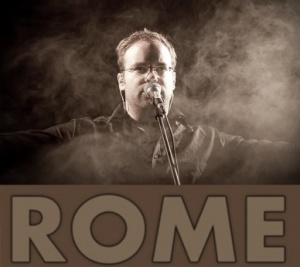 Reads: 3940 times
Artist:
Galleries:
It's not going to be a normal concert review. No. Expect an idolatrus anthem in honor of the band I've recently become addicted to.
After quite nice a journey in the air and on the ground I've reached my destination- a country size of a handkerchief - Luxembourg.
I will not say a word about my adventures during the stay, let's head to the point.
The concert took place in Esch sur Alzettte - the second biggest town in the country - in an old factory adapted into some kind of house of culture. Industrial interiors, chains, elements of weird, unknown devices. The hall itself was quite small, cameral, filled with fans from every corner of the world. A recitation in German leaked out of the speakers, helped to increase the tension while waiting for our heroes to appear on the stage.
ROME
on their studio albums sound perfect, but their live show was simply phenomenal. Thanks to additional instruments, mainly percussion, it gains this "something" that the studio recordings are lacking- the kick and amazing energy. You could hear it perfectly in
Pact of blood
or
Brandtaucher
. Rhythm, penetrating you to the bones, that made you want to follow it, somewhere far, beyond the realms of consciousness.
Finally the long anticipated moment came and the band walked onto the stage. Without any unnecessary words the first notes of
Like Lovers
sounded. A little crude, raw, and hypnotic, broken by Jerome's shouts- Compromise is not possible!
Then, initially milder and calmer -
Spanish Drummer
, which evolved into real storm of drums as it progressed.
After a small break at the concert's halfway point, Jerome came back onto the stage alone. The atmosphere became suddenly more intimate- only him, his guitar and us.
According to the info this concert was about to promote ROME's new album Hell Money, but there were only three songs on the setlist from this album, and we were listening to them right now:
The beast pain
,
Silverstream
and
Silver coil
. Maybe it's better this way. The new album is specific and difficult, and in my opinion- "non-concert-worthy" at all. It was a good choice to perform their earlier songs, which when played live sounded really awesome.
After his last solo song a guy appeared on the stage. A weird one, dressed in tracksuit pants and trekking shoes. At first I thought he was one of the road crew, but he took a seat next to Jerome, grabbed a cello and started to play. They played few songs together, starting with
To die among strangers
. The arrangement completely differed from the album one. It's slower, sadder. Like more poignant, and somehow deeper. I was standing there and listening and tears ran down my face. The sound of Andre's cello drilled into the soul, and Jerome's voice- deep, velvet and calming. A perfect combination.
For those fanatical enthusiasts of ROME like me, it definitely was an almost mystic experience.
Then we heard
In cruel fire
- another small masterpiece for guitar and cello. Despite its beauty, I felt like cutting my wrists...It was the time when the rest of the band came back on stage. The sound fluently conversed into the next song, the afore-mentioned
Pact of blood
. Energetic and with kicks, it moved the audience, which was by then a little bit thoughtful and silenced after the previous ballads.
The whole concert was a really big experience for me. Too bad, I was "at work" so I couldn't do what I really felt like- kneel down, fold my hands, bow down my head and stay like this, letting music flow through me and circulate in my blood.
It's good, that Jerome finally gathered the band, with which he feels comfortable on the stage. You can see it clearly, that in this set, amongst his friends, he feels more natural, which is a really big improvement when it comes to ROME"s concerts.
Surprisingly, according to his works, which are quite serious, on the stage Jerome is a really nice, sympathetic and amusing guy. Too bad that during the concert he was speaking mainly luxembourgish, with one exception- he ensured us, who came from abroad, that luxemburgish is really a language, not a myth, and excused us for "not understanding a fucking thing":)
After the concert, as usual, Jerome and the boys were waiting on the merchandise stand to give out autographs, talk with fans and pose for pictures. There was an afterpary afterwards, but it become more like drinking beer in small groups. Although one doesn't have many opportunities to have a toast with one's favourite band. I'm more than happy that I had this chance:)
Setlist:
1.Intro
2.Like lovers
3.Spanish drummer
4.The consolation of man
5.Der Erscheinungen Flucht
6.Das Feuerordal
7.Die Nelke
8.Death of longing
9.Merchant fleet
10.Seeds of liberation
11.Hope dies painless
12.To teach obedience
13.Silverstream
14.Silver Coil
15.The beast pain
16.To die among strangers
17.L'Assassin
18.In cruel fire
19.Pact of blood
20.Sons of Aeeth
21.Little rebel mine
22.Ballots and bullets
23.Birds of prey
24.Der Brandtaucher
25.Querkraft
26.Neue Erinnerung
27.The torture detachment
28.Reversion
29.Swords to rust
Other articles:
Newest comments: