She Past Away – Belirdi Gece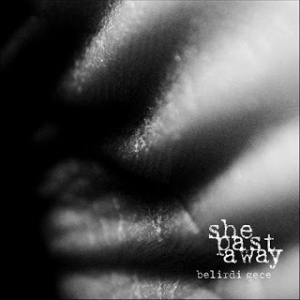 Reads: 4234 times
100%
Artist:
Galleries:
CDs catalogue:
Last topics on forum:
Being around on
YouTube
for a while now, the Turkish project with the strange name
She Past Away
finally released their début album
Belirdi Gece
now on vinyl via
Fabrika Records
. The music of
She Past Away
cannot be described other than with the adjective 'extraordinary'. They make darkwave, heavily influenced by the 80's pioneers of this genre, like
Clan of Xymox
and
The Frozen Autumn
. Still,
She Past Away
sound different than many other contemporary darkwave projects. Within the scene their name already spread like wildfire and their music is celebrated as the dark sound of the 21st century. Driven by minimalistic sample loops and neat guitar melodies, supported by deep vocals reminiscent of Andrew Eldritch's,
She Past Away
create a catching atmosphere without being pathetic.
There couldn't be a better song to introduce the album
Belirdi Gece
than 'Sanrı'. This track is perfect, from the beginning to the end. The melody, the vocals and the loops are remarkable. 'Sanrı' generates the red line that will lead through the album and whets your appetite for more.
Next comes 'Rituel' which continues the feel and the atmosphere of 'Sanrı'. The same goes for the following tracks, 'Monoton' and 'Kasvetli Kutlama'. These pieces showcase the formula of
She Past Away
´s success: Throughout the songs the main theme is repeated continuously, at some point the vocals set in. The songs, interestingly, do not get boring, but rather develop a state of trance in the listener's mind.
'İnsanlar' is another killer-track. It starts with a bright
New Order
like tune, until it suddenly evolves into a much darker gothic melody, returning in the refrain to a positive, almost epic atmosphere. I hardly dare say, but maybe this is their best piece.
The title-track 'Belirdi Gece (Musallat)' continues with the darker feelings of 'İnsanlar'. It is one of the longer songs on the album. 'Ruh' is another monolith and nestles to the already established trance mood.
The most minimalistic song is 'Kemir Beni'. Reminiscent of early
D.A.F.
(but much darker) an EBM crowd would love it, I presume.
'Bozbulanýk' and 'İce Kapanıs' round the album up; the first continues with the speed of the album, the latter, an instrumental track, fades the album out.
The album
Belirdi Gece
consists of ten songs, which are monolithic. It is hard to say, which one is their best (they have no worst). If I had to decide I still would have to name three songs: 'Sanrı' (Hallucination'), 'İnsanlar' ('Humans') and 'Ruh' ('Spirit').
If I wouldn't have learned Turkish already, I would do it now.
Tracklist:
A1 Sanri
A2 Rituel
A3 Monoton
A4 Kasvetli Kutlama
A5 Insanlar
B1 Belirdi Gece
B2 Ruh
B3 Kemir Beni
B4 Bozbulanik
B5 Ice Kapanis
Other articles:
Newest comments:
carpenterk



Writen at: 2013-10-07 23:07:27

Zdecydowanie popieram.
Do plejady gwiazd z lat 80-tych inspirujących She Past Away dodałbym jeszcze jedną ikonę tamtego czasu. The Cure, bo to o nich mowa. Brzmią głęboko, niemal na granicy zmysłów a jednak znakomite Sanri to niemal hymn nawiązujący do przepięknego A Forest.

I jeszcze jeden ukłon w stronę twórców. Rzecz spotykana rzadko, szczególnie u młodych artystów. Jestem pod wielkim wrażeniem She Past Away - Sanrı (Official Video)
http://www.youtube.com/watch?v=Zwi4BHMnJvg
Bez udziwnień, skromne środki wyrazu, ale jakże niepokojące i spójne z tytułem.
Co by nie mówić poprzeczkę postawili wysoko.

Dobrze, że będzie ich można zobaczyć i usłyszeć na przyszłorocznym CP w Bolkowie.
Ja już zbieram kasę :)

Pozdrowienia.
carpenterk.