Artist:
Galleries:
Archive: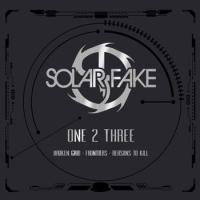 With this release, Solar Fake finally make a contribution to their own fame – considering their successful band history, what would make more sense than taking care of their own back catalogue? Here is "One 2 Three", a 3CD set coming in a deluxe 8-page Digipak featuring their first three albums "Broken Grid", "Frontiers" and "Reasons to kill", of course enriched with bonus tracks and extensive liner notes.

Sven Friedrich, singer and mastermind of the band, about this release: "It's been 10 years since our debut 'Broken Grid' saw the light of day. A lot of things have happened in the meantime, but for us, almost all of them were completely positive. So even better that our first three albums will be re-released now on 'One 2 Three'. Moreover, we have two bonus tracks per album featuring either live recordings or rehearsal tracks. And the booklet describes my personal reflections upon the band's history. So, to everybody who met us later on our way and of course to all fans and collectors – have fun with this retrospective!"
Available from 14 December 2018 by Oblivion.
Tracklist:
1.Hiding Memories From The Sun
2. Stigmata Rain
3. (You Think You're) Radical
4. The Shield
5. Creep
6. Here I Stand
7. I Keep My Eyes Shut
8. Hero & Conqueror
9. Lies
10. Sometimes
11. Your Hell Is Here
12. I Can't Remember
13. Here I Stand (Rehearsal Recording)
14. (You Think You're) Radical (Live)
15. Under The Skies
16. Why Did I Raise The Fire
17. No Apologies
18. More Than This
19. Parasites
20. Suich A Shame
21. Where Are You
22. The Rising Doubt
23. Pain Goes By
24. Until I'm Back
25. The Line Of Sight
26. Under The Skies (Live)
27. Where Are You (Live)
28. I Hate You More Than My Life
29. Face Me
30. Change The View
31. When I Bite
32. Reset To Default
33. Rise And Fall
34. I'd Rather Break
35. My Spaces
36. One Step Closer
37. My Bleeding Heart
38. The Pages
39. I Hate You More Than My Life (Live)
40. Reset To Default (Live)
Author:
hellium
Source: Oblivion / 2018-12-10 / News
Newest comments: