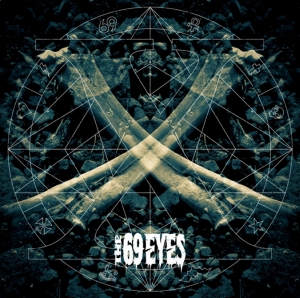 Reads: 14629 times
69%
Artist:
Galleries:
CDs catalogue:
Last topics on forum:
I must admit I wasn't that happy to hear about the album concept and announcements and style. I started preparing myself to be disappointed. Especially since I heard and saw
Red
, which wasn't at all what I hoped for after their last album,
Back In Blood
. Still, I had to give them a chance and see what they're back for.
The album opens with vibrant guitars and drums of first two songs,
Love Runs Away
and
Tonight
, that provide a truly powerful start - goth'n'roll at its best. For my personally it's
The 69 Eyes
classic: upbeat rhythm with good and simple guitar lines adorned with not-so-deep, dynamic vocals. Couldn't be better!
Black
continues in the good and characteristic music style known since
Blessed Be
and Jyrki's voice goes down in scale and calms a bit, contrasting with dynamic instruments. It sort of prepares for the upcoming song.
With
If You Love Me The Morning After
comes the first ballad on the album. The little dancing vibe makes you want to swing left and right and Jyrki's calm singing lulls you dreamily. Even the occasionally stronger guitar riffs don't interfere with the voice-centered style and keep firmly to the background with other instruments.
Red
sounds way better in the company of other songs that it did with the video. Or I got used to it. It's still not the best song, however, it's definitely something more than just a sad ballade with dynamic chorus. As the previous song, it's all about the voice and the instruments are left only to accompany it.
Now comes a little change – a wake up with
I Love The Darkness In You
. In my opinion the best song on the album (along with songs 1 and 2). It's another goth'n'roll defining song for me that makes you want to put on a polka dot skirt and converse and jump and dance around. And the tempo there is driven not only by the drum but also by ringing cymbals.
Borderline
is what I could listen to while driving – I could almost see trees passing outside the window while I doze of to the sounds of the car. The song is something that drives your mind away and not necessarily keeps you focused on the music. In my opinion – the weakest piece on the album.
Another rather energetic song,
I'm Ready
, wakes you up from the nap with drums and vocals. Goth'n'roll vibe with a little gospel chorus reminds me of
Devils/Angels
- rock'n'roll dance party without a doubt.
With a well recognized title,
I Know What You Did Last Summer
, comes a song in the same style as it's predecessor, playing well with a bit more noticeable guitar riffs.
When A Love Comes To An End
is a ballade closure. Acoustic with occasional, soft riffs and base-filled background. It does not necessarily encourage to put the album on one more time.
Well, they're definitely back, back in black and back with love. Sentimentally back to past records but without blood or vampires or horrors. I had an impression that the musicians did a little review of their most successful albums and took what they liked the most. And although musically the album in not bad, or even good most of the times, I do prefer their dark vampire side in lyrics. For this along with their sound creates the unique
The 69 Eyes
style.
Track list:
01. Love Runs Away
02. Tonight
03. Black
04. If You Love Me The Morning After
05. Red
06. I Love The Darkness In You
07. Borderline
08. I'm Ready
09. I Know What You Did Last Summer
10. When A Love Comes To An End
Other articles:
Newest comments: