The interview with Amduscia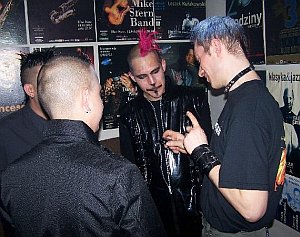 Reads: 13537 times
Artist:
Galleries:
CDs catalogue:
The interview's time and place: 6th March 2005, after the concert during
the Black Flames Festival 2, in the club "Blue Note" in Poznań.
Attack: Hello! What is you first impression after the concert?
-Amduscia: The Polish fans are great, excellent audience, their reaction
was a real surprise for us, it was great!
Attack: What inspires you for making music?

-Amduscia: The source are our true feelings, mine... his... the life
itself, in fact, real experiences.
Attack: What do you prefer? Working in the studio or giving concerts?

-Amduscia: I think that we like them both, these are different types of
work, both very good! Equally!
Attack: Have you ever been in Eastern and Central Europe?

-Amduscia: Yes, the first time one year ago, we played on WGT in Lipsk
and on Mera Luna festival as well.
Attack: We hope, we'll have a chance to listen to your live concert once again, perhaps during the Castle Party? Thank you!

-Amduscia: Oh, yes! Thank you!
The interviewer : Attack (Alternation.pl)
Poznań 06.03.2005

www.amduscia.de
www.myspace.com/amduscia
Other articles:
Newest comments: