The Prodigy - Their Singles Tour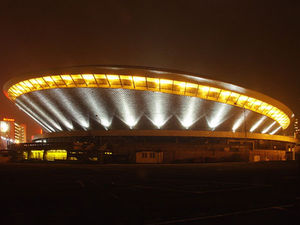 Reads: 4948 times
Artist:
Last topics on forum:
Why only now, you may wonder - hah, after such an event you need some time to get back to normal and look back at that night from a proper perspective. You must have heard a lot other reports, making you think that your absence was one of the biggest mistakes of your life.
Bad news, folks. They were not exaggerating. But, first things first.
The crowds gathered in front of Spodek meant a long wait in the massive queue. It wasn't a tragedy, but could've been better and faster - all in all, kudoz to the organizers, no "unforseen circumstances" you might experience when entering metal gigs.
A very positive thing at the very start - a colorful mix of people from all possible subcultures. Punk rockers, clubgoers, technofiends, metal fans - hard to say who wasn't there. What's more, the age variety was big, too - from teenagers to people with first strands of grey hair. Everyone calm, even though the tension was in the air. We were all waiting for the stars to be right, so that Spodek can fly away... Due to the entrance queue I've already mentioned, I haven't unfortunately made it in time to witness the whole set by DJ Fever, who was warming up the audience by its pre-concert choice. I managed to grasp pieces in his solid (and therefore a bit too monotonous, perhaps) set of a Nirvana song, Tone Loc's "Funky Cold Medina" (a nice surprise) and the Beasties. I'd love to participate in a party lead by Mr Fever, but that doesn't change the fact that on the second of May he was just a victim thrown to the raging crowd craving for the games. He performed gracefully, but he won't be remembered in the legends ;-).
About 9 pm the stage was left empty, the lights died, and a pleasant gig-shiver you all know ran down my spine - "it's on!" And it was on...
Smoke (obligatory, eh?), the intro and the heroes of the night appeared on stage. Behind a huge array of electronica - Liam, below - an analogue drum kit (!), the guitar stand on the side, and of course Maxim and Keith in the middle, grinning madly at the brimming crowd. A short hello, and without any further ado the five-man squad of The Prodigy started to warm the engines up before Spodek was to enter the orbit. In the air, a legion of arms, cameras, phones and girlfriends held up bravely by their beloved ones. That's what I recall, before the first sonic jackhammer rolled out through the speakers - "Wake the Fuck Up". Apparently, they thought that we were asleep that early. Many a fan didn't expect a regular pogo during a gig of such a "dance" act, but well - that's what was going on right from the start.
A short pause, first roars from the crowd (before it had been mainly shouting - maybe some people found it hard to believe that it was "right here, right now"), applause, the classical "are you ready?" question, and they hit us with "Breathe". One of a kind several-thousand-throats-and-dancing-bodies version. Only 10 minutes into the concert, and the Spodek was already heading straight for the Moon. Another pause (generous of them)... "It seems like Poland is the place to be!" - sure thing, Maxim :-).
Impossible. But true. I hear the riff of "Their Law" and I am damn sure we are going to beat the national record of the number of people gone crazy while dancing. And this is just the third track. "Fuck them, and their law!" - they totally own us. They can do whatever they want. A gentle question just in case - "do you feel good?" A comparison of the period since their last visit to Poland to a life sentence, and here we go again. Liam heats the place up with beats'n'samples, we get into the "Spitfire", and now everyone's truly out of their mind, Maxim and Keith as well.
After such a batch of madness we deserve a longer break. Cool air tastes like nectar. Let's not forget though, where we are - it's Spodek, a few thousand The Prodigy fans and the band themselves on stage. A juicy intro to "Hotride" and again, we're all somewhere out there, way beyond the Earth getting smaller and smaller. Quarter of an hour and several hundred litres of sweat behind us. The crowd is chanting, we want more. We get - "Voodoo People". Those, who do not dance with us better evacuate to the back. In the flood of lights and ordered noise we fly on, head first. The end. "Where are the Prodigy people?" We're there, we're there. Reload, and another burst straight into the head. Starting with "Back 2 Skool". I can feel they are letting us rest a bit, with the breakbeat passage at the end of the song. The saved stamina is really handy, as here comes "Firestarter". If I had been fed up with that overplayed track before the gig, the old love shines through with a live guitar, live drums (and a live Keith). We must be somewhere near Mars. A smooth transition into a rather mixed version of "Action Radar". Liam's showing off, yup. The band needs a break too, apparently, we're quite a demanding audience after all. "Warning" marks the preparation to the final assault on our brains. It's the 50th minute of uninterrupted dance trance. A storming applause (where the hell do we get the strength for that?) and it's high time for the grand finale. Looped beats, sounding familiar? Right - "No Good (Start the Dance)" - a wild roar rising from thousands of throats, we clap our hands, to the bitter-sweet end. "Bring it on!" I try to preserve the last bits of my humanity and my consciousness telling me that I have to be pretty tired, but it's all gone somewhere in the electronic tribal rage massacre. After that, only silence. Darkness. We break free from the spell, and we want more, more more! Whistling, shouts, howls, clapping, chanting. The crowd wants more sonic flogging.
We summon the demons of The Prodigy. And we succeed. Time for the encore. "You want more?" That must have been the stupidest question of the night, no offense, dudes ;-). A venomous sampler heralds death writhing in the air - "Poison". We sing, right on, at least those, who still have the strength to do that. Heroically, we defy the gravity of Jupiter, the views of which must be majestically filling the portholes of our flying Spodek (and spodek = saucer, yeah ;)). Time to refuel near Pluto - "Blow Your Mind" (a variation of "Diesel Power"). I forget what my name is, who I am, the only important thing being a new heap of beats thrown to us as fodder. No rest for the wicked, we sink deeper and deeper - "Smack My Bitch Up" - "where's Katowice? Where the f**k are you? Are you still with us? Let me see ya!" So they get, what they want.
An hour from the start I'm feeling like a zombie, but to such music even a corpse would dance, right? Shahin Badar's lovely voice let's us know that we have just left the Solar System. Ecstasy, rage. And silence again. "I can't hear you" You can, now. "You wanna go deeper?" So you can kill us with something more? It sounded like "Everybody in the Place", but what we got are "Dead Ken Beats". Nevermind, just focus on surviving till the nigh end in one piece. Applause, very tired, but we still have the strength to be tampered with... "Bring the noise!" The last song is dedicated to all the Polish people. Yeah, it's time to get back to Earth... But before we will finally give up to the gravity of reality, one more time that night we die together on the huge dancefloor that Spodek turned into. "Out of Space" - everybody's singing, no exceptions. The crowning of the trip. "Thank you!" We thank you too, we do, a lot. I breathe without moving at all for the first time in... a look at the watch... eighty minutes.
Too short? You have to be kidding - every single track after that would probably mean casualties ;-). And that's not because of crowd behaviour, not at all - the people gave a fine show of having good fun. We were just getting out batteries drained ;-). A bright light reminds us where we all are, and from the speakers we get an antidote to all that mad stuff that had been going on so far - "Love is in the Air" (of course not by The Prodigy ;-)). And I think it's a good bottom-line track for the concert - we are all smiling as if we were after a long and intoxicating, hot night. Secret peeks at other participants of this gig-orgy confirm my theory - not a single dissatisfied look. Drunk with joy we slip away into the night, like a legion of astronauts scattering from the biggest space ship in mankind's history to date. Earraped, beat-drum-and-guitar-crushed, stomped into the ground, pulverized into stardust. Dead, but born again.
PS. Saying that "The Prodigy is a band playing dance music" is such a horrible understatement, that I shall only quietly grin recalling that night. It's a volcano of energy live, beating a lot of metal bands (and I had the opportunity to see a few of the latter live, too). So, if you know and like even a bit the crazy Brits, YOU HAVE TO see them live.
Other articles:
Newest comments: