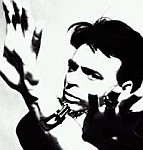 On Mar 13, 2006, icon Gary Numan releases "Jagged Halo", the first album since "Pure" which was released back in 2000.
On his website Numan states that the "more recent songs that have now been worked on with my new producer are considerably different to those that had already been done and, in my opinion, are more aggressive and a far greater leap forward from Pure than what had been done previously".
The release is celebrated by a gig done on the same date at The Forum in London, UK, which will be recorded and filmed for a future DVD release. Later on both European and North American tours are planned, but not yet scheduled.
http://www.numan.co.uk/
Newest comments: