Theodor Bastard - Beloe: Predchustvia i sni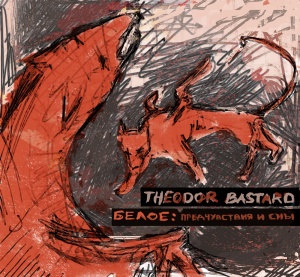 Reads: 2593 times
90%
Galleries:
I have to say it at the very beginning: it's one of the most amazing albums I have recently listened to! I didn't know at all what to expect, some information about Theodor Bastard which I found in the internet was extremely enigmatic: trip-hop mixed with ambient plus Russian. I was intrigued by it and I decided to immerse in it a little bit more. And what can I say? MAGIC!
It is hard to describe what we are dealing with. I have to make it clear, my Russian is really poor, so I have no idea what the vocalist is singing about. But it doesn't matter. For me she could sing some rubbish and still listening to it would be a sheer delight. This time, exceptionally, I don't want to focus on particular tracks because the whole album can be absorbed as a kind of a tale. The tale from the world of peace and calming. 45 minutes during which you are floating into the world of sounds. There are a lot of electronic elements in it so it isn't this kind of music which puts you to sleep, however, together with the vocal it is extremely restful. Anyway, the band is also classified, apart from already mentioned tri-hop and ambient, as "world music". There are a lot of ethnic motifs interspersed with electronic elements which I have already mentioned. It took me long to review this album listening to it a lot of times before. I was wondering how to put into words what I had heard. And every time I came to conclusion that it is hard, not to say impossible. No band comes to my mind I could compare Theodor Bastard to. I think you should listen to it yourself and see what your feelings will be.
Do I recommend it? By all means! For me it is "magic" album in some way. If you are interested in something different, something original and extremely atmospheric, then do not hesitate any longer! "Beloe: Predchustvia i sni" is so difficult to classify that it should be just listened to!
Tracklist:

01. Ot Holoda (Voda)
02. Aruah (Ochi)
03. Mertvie (Son)
04. Zemnaya Dolya (Budu zhit')
05. Vernis' Chistim
06. Polubi (Mir)
07. Uhozhu
08. Predchustvia (Lzz)
09. Lilii (Beloe)
10.Epilog (lost song)
Other articles:
Newest comments: