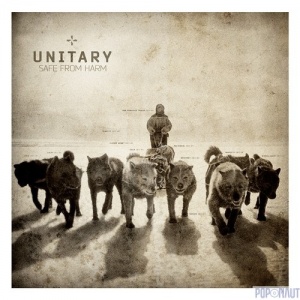 Reads: 3071 times
70%
Johan Hansson's hobbyhorse UNITARY released its debut album "Second To None" in mid-2003 to universal acclaim. Hansson's own brand of industrial techno has since gained him some distinguished appearances on numerous Electro compilations CD's, but aside from these rare contributions has remained virtually absent from our musical radars. So, are we to believe he's spent almost 8 years perfecting his long anticipated sophomore release Safe from Harm? Well, yes apparently. UNITARY have finally emerged from their Stockholm studio complete with 12 new tracks. Safe from Harm also marks a new stage of the bands evolution – the introduction of vocals.
For fans of the previous instrumental tracks, Safe from Harm has all UNITARY's trademark fat synth and atmospherics, so there's no need to descend into sickened choruses of "SELL-OUT!" just yet. There's even a little instrumental ditty in the form of "Der Perfekte Traum" to keep all you old diehards happy.
With expectation running high, UNITARY will surely be feeling the pressure upon Safe from Harm's inaugural release. Opener "Aria" begins with digital samples and a distorted bass hook that wouldn't sound out of place on an Aphex Twin record. UNITARY is a project encompassing a broad spectrum of influence, ranging from the cyber punk narratives of Gary Newman to the gritty post-punk attitude of Ministry (with faint traces of New Wave darlings Cabaret Voltaire thrown into the mix). It's an impressive start, one which promises to deliver a new take on another increasingly stagnant genre. But when the keyboard riff gives way to the first preview of Hansson's vocals, things threaten to go a bit pear shaped.
It's not that he can't sing you understand, or even that his style of vocal doesn't fit well in an industrial setting - it's just that it's so very inexpressive. In this musical context perhaps such a criticism seems unfair, but titanic tracks like "Calm" and "Colder" deserve more than the monotonic drone Hansson has to offer. There are instances on this album where his voice works well, notably on "Renitent" (it's amazing what a little auto-tuning will do to repair even the most wooden of singing voices). "Woven Hearts" is a more contemplative track, swapping Hansson's chunky synth laden overdubs for haunting piano keys. Even here his dull, impassive serenade sounds more at home than on bouncier numbers.
This sole denunciation notwithstanding, there's little to complain about on "Safe from Harm". UNITARY's lyrics possess a caustic irony typical amongst Scandinavian exports and the music positively bursts into life with an almost artless enthusiasm. Each song builds up in repetitive sequences before budding into mesmerising mantra. UNITARY's music would provide the perfect soundtrack to any movie depicting extreme urban decay or life dwelling in an apocalyptic wastelands - you get the idea. Hansson should be congratulated too for writing, producing and performing everything on this record himself and he knows his genre like the back of his own hand. The album as a whole has no problem standing up by itself either and even the most hardened detractor of industrial music won't help but be won over by the catchy melodies UNITARY effortlessly churn out.
UNITARY's second album succeeds in what it tries to do and for all its minor flaws is bound to please industrial, techno heads the world over.
Tracklist:
01 Cold
02 Calm
03 Renitent
04 Aria
05 Clarity
06 Zenith
07 Repair
08 Closer Apart
09 Travesty
10 Woven Heart
11 Der Perfekte Traum
12 No Signal
Other articles:
Newest comments: