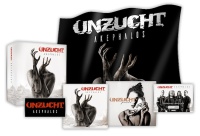 On the new album "Akephalos", named after a headless demon from ancient Greek mythology, Unzucht have created an effective fusion of Dark-Rock, Indie-sounds and modern Metal-onslaughts.

A lot of folklore legends picture an Akephalos as a headless ghost that cannot find rest. It is rather fortunate, then, that Unzucht have not approached their new album in a headless fashion at all, as each of the 11 songs hits the mark spot on. A certain restlessness is exactly what the songs draw their relentless energy from, though. More than ever before, the lads invoke a melting pot of different styles to bring their German language Rock-anthems to life. From "Neue Deutsche Härte"- and Industrial-elements in "Fleisch und Ruinen", via the Melodic-Hardcore-foundation of "Projektil", or the first single "Nela" that fuses Alternative-Rock with modern Metal-attacks, right up to the Indie-Rock-meets-Synth-Pop anthem "Der schmale Grat" - Unzucht love zigzagging between unexpected genre leaps and still manage to stay true to their darkly tinged trademark sound. Sometimes hard and straight in your face, sometimes unabashedly emotional, Unzucht steer their ship wherever their hearts lead them. Carried by the fiery voice of Der Schulz, the band does not care too much about adhering to genre clichés which makes them stick out of the crowd in a most refreshing manner. "Akephalos" will also be released as a limited fan set in a lavish box, including an exclusive bonus disc with piano versions, plus a flag, a patch and a hand-signed autograph card as exclusive extras.

Available from 27 July 2018 by Infacted Recordings.
Tracklist:
1. Projektil
2. Nela
3. Der Tod In Mir
4. Die Verbotene Frucht
5. Akephalos
6. Du Fehlst
7. Der Schmale Grat
8. Nur Die Halbe Wahrheit
9. Nachts Im Meer
10. Fleisch Und Ruinen
11. Das Sichere Ufer
12. Ein Wort Fliegt Wie Ein Stein - Feat. Saltatio Mortis
13. Wir Sind Das Feuer (Piano Version)
14. Nimm Mich Mit (Piano Version)
15. Widerstand (Piano Version)
16. Ein Tag Wie Jeder Andere (Piano Version)
17. Meine Liebe (Piano Version)
18. Seelenblind (Piano Version)
19. Hinter Glas (Piano Version)
20. Lava (Piano Version)
21. Nur Die Ewigkeit (Piano Version)
22. Du Fehlst (Piano Version)
Author:
hellium
Source: Infacted Recordings / 2018-07-23 / News
Newest comments: