V/A – Covered In Darkness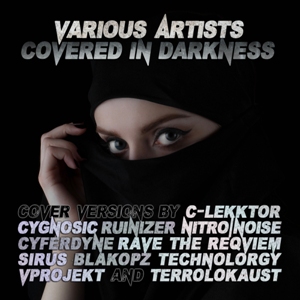 Reads: 2605 times
83%
Panta rei - said someone once, and he was probably right. Songs which a man brought up with as time pass become "cult" (or just old) and in the life of every music reviewer comes a moment, a day that: damn it! It's been 20 years since the release of the album! More, on the dusty shelf in the old room at one's parents home still lays cassette. Misfortunes usually come in pairs, so in addition one can discover that his "hymns of youth", lord have mercy on us, were covered by someone. Well, "Childhood's End" (Ulver - I recommend, by the way). In a surprising manner such moments usually coincide with the discovery that a one greatly overstates the average age of the place (bar or club) where he actually is sitting in. What to do, c'est la vie... Firstly, you have to choose pubs more wisely - fortunately there are still dives where one can feel young, for example chess clubs. Secondly, there are always covers of even older albums.
Compilation of the Japanese label Digital World Audio (formerly Deathwatch Asia) from 2015 year is a collection of 11 covers (including one instrumental remix), which, unfortunately, to a large degree "hook" of my happy youth. The range of musical references and inspiration that you can find on this album is in fact quite wide, but mainly includes artists from eighties and nineties.
As the name of the album suggests the compilation consists basically of a darker (aggrotech, electro) versions of the originals. On the album you can find among other a decent metal but not surprising "Crucified" cover of Army Of Lovers performed by Rave The Reqviem. In addition, there is an energetic (great for a party!) "Fight for Your Right" (originally Beastie Boys) performed by Blakopz. "End of Ages" performed by Cyferdyne is basically only a slightly sharper and darker version of the original, and it is not overtaking. In contrast, "Black Celebration" by Nitro / Noise although performed in a similar style is definitely a new dark quality!
It is also worth to listen of two covers of big metal stars of the nineties - Deftones and Korn. "My Own Summer" version of Sirus is good successor to the original in terms of "sickness". Whereas electronically ecstatic "Falling Away From Me" is definitely the second best song on the album and you must know that the author of these words never was a fan of Korn, so congratulations to the people of Terrolokaust.
Number one of the album is a song "I Ran". Made by VProject featuring Jamie Nova is just the perfect cover. The song on the one hand, is a great renewal and fresh version of original, and on the other, the artists in some way managed to keep the characteristic atmosphere of the eighties (maybe it's the guitar riffs?).
In addition, on the compilation you can find more than a good dance cover of "Radioactivity" (in aggrotech) made by C-Lekktor and also quite good instrumental remix of "Mad Desire" by Cygnosic. There is also a one raisin - cover of a contemporary rapper Nicki Minaj - song "Beez in the Trap", which is certainly interesting, although I am not sure if successful attempt of boundary crossing between genres. Similarly, dark wave version of "Sometimes" performed by Technolorgy in my opinion is minus of the album, simply the original And One version sounds definitely better.
It is important also to add that download version of that album costs only a dollar (yes!), which means that each of 52 minutes of music is almost free...
So in short - a pretty good album, dance, dark, worth it! Well, unless you indeed planning to visit the chess club ;)
Tracklist:
01 RAVE THE REQVIEM – Crucified
02 C-LEKKTOR – Radioakktivity (Radio Mix)
03 BLAKOPZ feat. MIKE SAGA – Fight For Your Right
04 RUINIZER feat. SÉAMUS BRADD – Beez In The Trap
05 CYFERDYNE – End Of Ages
06 NITRO/NOISE – Black Celebration
07 SIRUS – My Own Summer
08 CYGNOSIC – Mad Desire (Instru-Mental Mix)
09 TECHNOLORGY – Sometimes
10 VPROJEKT feat. JAMIE NOVA – I Ran
11 TERROLOKAUST – Falling Away From Me
Other articles:
Newest comments: