Various Artists - Electronic Body Matrix 2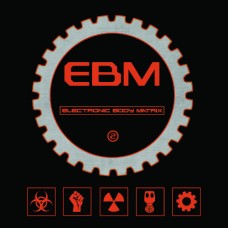 Once again Alfa Matrix is revisiting the roots of the old school EBM movement and bridging them together with the current electronic sound. The sampler pays homage to the various branches of the electronic music genre throughout the last decades, gathering pioneers, leading figures of today's scene, rising new talents and artists who deserve to be discovered. Don't be deceived, this is not simply a re-release of new wave EBM classics, "Electronic Body Music 2" is definitely packed with fresh new music!
This 2nd edition presents some 76 bands across 4 CD's plus an exclusive download link giving you access to another 40 additional bands for a total music play of 116 songs.
Available from 13 October 2017 by Alfa Matrix:
Tracklist:
CD1:
NZ. S.F.R.Y.
[SITD]. Post-Factual Age
ELM. Kampftrinker (schlacht!-mix)
AGREZZIOR. Run
CELLULOIDE. Gris (virussé par ORANGE SECTOR)
ELEGANT MACHINERY. I Say
ENTRZELLE. Steadily Losing Faith
MONDTRÄUME. All You Cannot See (CRYTEK mix)
THE PSYCHIC FORCE. Die In The Clinic (EISFABRIK mix)
FUNKER VOGT. Der Letzte Tanz (kurzmix)
CEPHALGY. Got Maschine Vaterland (single edit)
FREUNDE DER TECHNIK. Nachher Ist Man Immer Schlauer
BRUDERSCHAFT. falling (PLASTIC NOISE EXPERIENCE mix)
DREAM RECALL feat. MONDTRÄUME. Reasons To Die
THIRD REALM. Command And Conquer
PITCH YARN OF MATTER. Faults
ELEKTROKLÄNGE. Heimkonsole (mehrsprachige version)
METROLAND. Cube (matrix mix)
DIVE. Far Away
CD2:
ORANGE SECTOR. Heute Liebe Ich Dich
ALIEN VAMPIRES. Rave To The Grave (NZ mix)
POUPPEE FABRIKK. Watch Your Sex (2017)
IMPULSKONTROLL. French Evulutionen
FIXMER / MC CARTHY. Chemicals
KOMOR KOMMANDO. Music Is My Religion
AESTHETISCHE. Gone Tomorrow (hard mix edit)
R.I.P. (ROPPONGI INC PROJECT). Havoc
NOISUF-X. Banzai (tenno heika)
ORPHX. Zero Hour
DANIEL B. PROTHESE. (sar+(-(_x x)')))
NEON ELECTRONICS/NE. 157
ENZO KREFT. We're Breaking Out
IMPLANT. The Telephone Call (ELM mix)
AD:KEY. Du Bewegst Dich Nicht (body matrix edit)
PATENBRIGADE: WOLFF. Der Brigadier Trinkt Bier (DBtinB! mix)
ACCESSORY. Ship Of Fools (CEPHALGY mix)
JUNKSISTA. How Deep Is My Love
ELECTROGENIC. Skills (radio edit)
CD3:
CRYTEK. Anathema
MILDREDA. Neon Eon
AVARICE IN AUDIO. Lies To Me
HOCICO. In The Name Of Violence (FADERHEAD mix)
ARMAGEDDON DILDOS. Intimidated
KANT KINO. Children In The Park (sinna acid)
KONER. Babbie (short edit)
FORMSHIFT feat. NEON ELECTRONICS. What We Want (NOSEDA dark techno rework - radio edit)
RHYS FULBER. Minsk Maschinen
NÖVÖ. The Shortwaves (COMMUTER mix)
FRONT 242. Take One (KOREA HUNTINGTON remix)
DEUTSCHE BANK. Unterwegs In Meinem Saab (FROHM mix)
THE ELDRIDGE EXPERIENCE. Cigarette Burns (valerie the lustrous love machine mix)
LIGHTS OF EUPHORIA. Blood On The Floor
SPETSNAZ. Free Fall
DIFFUZION. Blessed (power mix)
AUTODAFEH. No Future
THE SEXORCIST. Minimal Komplex
CULTURE KULTÜR. To The Unknown Soldier (lost generation mix)
CD4:
NEUROTICFISH. Is It Dead
NITZER EBB. Down On Your Knees (KANT KINO mix 2017)
HUMAN STEEL. Steel And Hammer
TOLCHOK. Man Is Evil (2017)
BÖDLARNA. Fakir
PIONEROS CANO. Das Artefakt
MISS FD feat. VULTURE CULTURE. New Era
AMORPHOUS feat. Torsykes. Brave New World
PSY'AVIAH feat. Fallon Nieves. Reboot Reset Relay (matrix edit)
AYRIA. Crash And Burn
STOPPENBERG. Fearless
CENTHRON. Blitzkrieg
LLUMEN. Force Of Nurture (MILDREDA mix)
VENAL FLESH. corrupted Wetware
PROTECTORATE. Infocon
CARDINAL NOIRE. Narkomat
PLASTIC NOISE EXPERIENCE. Struggle
AIBOFORCEN feat. KANT KINO. Etching Herself In Acid (matrix edit)
SPOILED POISONED. Heart Sync
EBM2.SOUND CARD BONUS:
KILMARTH. Bãsadatrark
MENTALLO & THE FIXER. A Lot Like The Truth
AENGELDUST. Suicide Bomber (SYNCFACTORY mix)
ZEITFAKTOR. Escape
ACYLUM. Pest (LLUMEN mix)
SERPENTS. Immer Voran (amen mix)
SIGNAL OPERATOR. Aus Fact (chemical sedation version)
ELECTRO SYNTHETIC REBELLION. Machines Of Destruction (edited)
EQUITANT. operative
OS42. The Answer
EUFORIC EXISTENCE. Do You Tolerate
ANGSTSYSTEM. Resurrection (rekrutierung I)
CODE: RED CORE. Operators
CHRYSANTH. Cerebra
TOTEM OBSCURA. Verräter (DEADLY INJECTION mix)
ZOMBIE GIRL. Panic Attack (VENAL FLESH mix)
AT0SHIMA 3RR0R. Heart Of Stone
NETZ. Hey Sam (fake.rmx)
BLOQUE DEL SUR. Contacto
SIVA SIX. Transcendence (METROLAND mix)
NEIKKA RPM. Battle Scars (CUTOFF_SKY mix)
MIRANDA CARTEL. Darkness Of The Night
ESSENCE OF MIND. No Place To Hide (astral labyrinth mix by ALIEN NATION)
DEKAD. Poladroid (new beat mix)
DIGITAL GEIST. Fired (edit)
TECHNOID. Legion
STUDIO-X vs. TECHNOID. Leave Us Alone
STUDIO-X vs. SIMON CARTER feat. AVARICE IN AUDIO. Hurting
INTERFACE. Destination (SIMON CARTER mix)
CIRCUITO CERRADO. 8 Bit Bitch (noizetendo version)
EXFERNO. Alt-Facts
NEUTRAL LIES. Glitter Ball (K-BEREIT mix)
HELALYN FLOWERS. Synthetic Paranoia (THE PSYCHIC FORCE old skool mix)
TRAGIC IMPULSE. Razorblade
WANT/ED. Sputnik 1 feat. Holger Muller (DMT BERZERK mix)
ZYNIK 14. Alles Zählt
DEN.C.T.BUG. Furchtlos
SCHWARZBLUT. Judas (BINARY DIVISION mix)
DIVERJE. I Reject, Your Control (feat. INLINE SEX TERROR)
RIOT KITTEN. Regicide
Newest comments: