Various Artists - More Than Nine Lives (Limited 2CD Digipak)
Other CDs: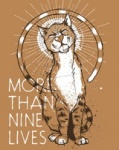 Various Artists
Add date: 2012-04-02
Label:
Industry8
Tracklist:
Tracklisting
Disc 1
01. Mueran Humanos – Exito De Una Ex Sanata
02. Bestial Mouths – Caverns
03. Synapscape – Red-eye Puffback
04. 100blumen – 4 Pfoten Für Ein Halleluja
05. Blood Rhythm – Get Your Paws Out Of The Goblet, Aliecat!
06. The Frozen Autumn – Rallentears
07. Bootblacks – Save Me Mariah
08. Sullen Serenade – Coyopa
09. Nadja – Prowl
10. The Spiritual Bat – Hyptonic
11. Cult Of Youth – Untitled
12. His Electro Blue Voice – Red Earth
13. Dream Affair – In Vain
14. Moon Women – A Collection Of Thought
15. Entertainment – The Theatening Paws
16. Lowness – Ttmc
17. Creepoid – Stranger
18. Seamripper – Seven Stitches
19. Nothing – The Rites Of Love And Death
Disc 2
01. Access To Arasaka – Freeside
02. Author & Punisher – Below Above
03. Sgnls – That's The One
04. Claps – Silent Still
05. Monica Richards – The Strange Familiar (radio Feline Mix)
06. Primary Colors – Fading Collapse
07. Crash Course In Science – Cow Cat
08. Void Vision – Not Much Of Anything
09. Revel Hotel – All I Never Wanted (let It Go)
10. Worms Of The Earth – Kaivalya (genghis Cat Mix)
11. Erik Wollo – New Horizon
12. Black Tape For A Blue Girl – Caughtstranger
13. Zero Degree – Halycon (planetfall Mix)
14. Totakeke – Onchyectomy
15. Live Not On Evil – Scary Polka
16. Population – Mourning Dawn
17. Love Is Nothing – All Cats Are Grey