Velvet Condom - Stadtgeil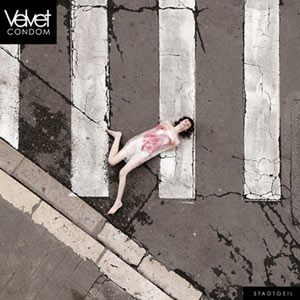 Reads: 2498 times
55%
Although I've never experienced this feeling (I've been close), I can understand irritation accompanying quite a pitiful situation in which you have a used condom stuck to the sole of your shoe. After an exhausting night this condom has finally had a rest on a pavement near a crowded street in the scorching sun. Is it this "
Stadtgeil
" on the back of the cd? Taking into account the subject matter of many songs, we can state so in a parodic tone, however both form and content are more complex than throwing remnants of passion at feet of morning pedestrians. The problem with velvet condoms is that although they don't irritate so much in the streets as their standard version, they don't trail after you.
When a few years ago I was in Strasbourg, I flung myself into typical tourist attractions: unforgettable churches and cathedrals with fabulous portals, unusually picturesque lanes by the Rhine river, walls with ivy, putti, monuments... I could feel deep inside that down there a completely different nightlife flourishes, different from European urban life we know. The band comes from this city and they could experience this dualism, which I envy them. This dualism is present in their music as well.
Although in Berlin, where they moved, metropolitan atmosphere dominates, two factors – the soft historical one and the loud modern one - live together in Velvet Condom and create a unique connection between emotional post-punk and rhythmic synth-wave.
As in the band name some noble matter mixes with latex artificiality, guitar inspirations of The Cure can be heard from the first notes. What's more, shoegaze noise and electronics à la Soft Cell join together here. Although guitars sometimes burst louder, as a whole the material has traits of pervasive delicacy verging on hesitation, which is unfortunately too dominating to make the material really good. What plays an important part is the factor which will be mentioned in a moment.
The best word to describe music of the duet is "stuffy". Hot pavements, no air movements between buildings, morning memories of evening lust and some remains of sweat after the night spent at the hormone spinning club – all that can be described as modern romanticism of contemporary city "inhabitants by choice." This name characterizes both lyrics (not very sophisticated) and form, both are soaked with eroticism and interchangeably relate to sex but in good taste. The music is so sensual (key word) that pointing at its French origin is inevitable.
Vaporizing heat and excitement characterize the male vocal, which is specific, melodious and high. However, sometimes we may have an impression that muscles are loose a bit too long and what we get is overcooked meat, something nobody likes, especially in big amounts. The singing is clear but too boyish with too much mannierism. The compositions are interesting themselves but get listeners bored. How long can you listen to this seizing space high boyish voice on the verge of orgasm, these all whispers and moans? It's necessary to disregard them if you want to appreciate the music itself. At the very first moment it seems to be impossible but the longer you listen you can feel the records integrity and accept the vocal in places where plateau desire stays in a distance.
In some parts of "Stadtgeil" we have loud impulsive records such as the first song "Funeral for Love", which is the real hit and here noisy guitars make the music pace faster. More electronic "Menace" serves the clear melody and bass. However, none of these two compositions are equal to "Rouge City", which is full of interesting effects (on vocal, too), tenacious beat, uneasy climate, rhythmical skills, keyboard melody and slowly fading long guitar notes. Fast "Separ-hate" comes back to the guitar noise focusing on it more than any other tracklist position. Electronic "Samt und Stein" doesn't distinguish at all, I consider this song a mistake. "Ice Disco", however, surprises with elements of italo disco eccentrically combined with new wave. "Faint-hearted" brings more dirt and tension bewteen the synthesizer and guitars, which makes the melody fast and exploding everywhere. "A New Fall" shows a different, kinder face of the band. It's an introduction to a distinguishing and dark "Scars Shine". Gothic guitars, moderate rhythm, balanced singing, impression of depth and space build the atmosphere of anxiety. As a bonus, listeners get the melancholic "Little Death", which sounds like Placebo (also with regard to vocal).
Velvet condom isn't a good choice in life but it can be suitable in music. Indeed, it's an intriguing creation, an interesting marriage of sounds ("with extra ribs"). Exaggerated vocal weakens its unsafe structure but as you know condom endurance is the most important thing. It's good to turn attention to a few songs ("Rouge City", "Faint-hearted", "Scars Shine). After all, "Stadtgeil" may be considered as a potential which may or may not be released in the future.
Tracklist:
01. Funeral For Love
02. Menace
03. Rouge City
04. Separ-Hate
05. Samt Und Stein
06. Ice Disco
07. Faint-Hearted
08. A New Fall
09. Scars Shine
Other articles:
Newest comments: