Vintage & Fetish Show Vol. 2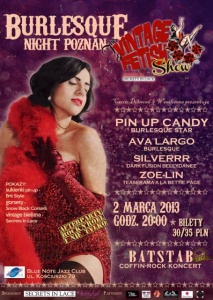 Reads: 2283 times
Galleries:
On Saturday night, 2nd March 2013, in Blue Note Club the second edition of "Vintage&Fetish Show" took place. The organizers, Waniliana and Carrie had prepared a real feast for eyes.
It was hot just right from the start. It was all thanks to Pin Up Candy who performed first as usual. We remember her from the first edition and of course she had to be there this year as well! Pin Up is not only extremely talented but also courageous and sexy. She proved that from the very beginning creating a great show agitation among the viewers. Those who were late can be sorry for yourselves. Hardly any burlesque dancer has ever had such a fantastic brocade fountain poured on her appetizing cleavage.
The participants enjoyed also the metamorphosis of the stage which thanks to added screen looked like rich with coquetry and sex appeal boudoir. Behind it Candy was gradually taking off her clothes. There was also tempting dance with ostrich feathers fans. The only distracting things while watching the shows was loud sighs from the audience, whistles and applause which was even louder than music.
This year also gorgeous Ava Largo presented her shows. She performed in two scenes. In the first one she professionally played femme fatale serving a great dose of piquancy. There was no man who could resist her when she took out a whip from the box. During the performance she smoked a cigarette and was looking dominantly at the audience. As a musical background a French song Mylene was played and it fitted perfectly to the idea of the performance. The second show was more subtle. She was wearing a sweet dress and dancing with a ribbon. It was really great and the applause she received only proved that fact.
One of the show was the performance of Zoe-lin as a mistress of the house along with Cinnamon Girl as a housemaid. This time girls were getting dressed on the stage since fastening a garter belt and lacing up a corset need some help ;) a pleasant Teaseram remake (Betty Page and Tempest Storm).
Of course the evening wouldn't have been fully sensuous without a premiere belly dance by Silverr. We all were enchanted by her skills. She nicely mixes elements of belly dance with other dances. She presented her own style improvising to folk-pagan metal rhythms so that the performance was unique. The atmosphere was enriched by small torches, dimmed light and smoke – all of these created unusual experience.
The next attraction was a concert of BatstaB (the mixture of rock, punk, metal and industrial). They didn't really match this event but even though they were amazing. Very quickly they managed to make the audience dance. A big plus for charisma and nice contact with the audience.
Between the performances we could see fashion shows, two of which were by Brit Style company. The models were wearing clothes perfectly fitting their figures. We could see vintage clothes, retro dresses, Rockabilly ones.
The evening was made enjoyable even more by fashion show during which SnowBlack corsets were presented. Great, unique, meticulously made and perfectly modelling figure. The jewellery was provided by Wymiar Alternatywny. One piece of jewellery went to a person from the audience just like BatstaB albums and other interesting surprises. Everyone could win!
Emotions were raised during final underwear show by Secret in Lace producing vintage underclothes. It's worth mentioning that the company patronized this edition of VFS, what's more it's known from its cooperation with Dita Von Teese. The show was extremely sexy. The underclothes were enjoyed the same way as the girls on the stage. However, some of them seemed embarrassed a little bit. Nevertheless, it was good to watch that. This year among the models there were already mentioned Silverr, Zoe-lin and Jeany Kicz, who took part in the first edition as well as new ones Soki Angel, Daria Darunia, Paulina Balbina, Dominika and Rudzienka. All models took part in this show. At the end they all stood on the stage and perforated balloons with brocade brought by Wanilianna.
The only disappointed ones could be the people who booked the tables, even though they were informed that there is no guaranty they thought they could watch the show sitting comfortably like in the Paris burlesque club. Unfortunately it was impossible because a lot of people came. There were also a lot of photographers and observers who were standing and moving around the tables making watching the show hard. The only solution was to take a seat on the floor or stairs from where there was a great view.
In comparison to previous edition Blue Note appeared to be a better place. It had got enough room for a lot of people and everybody could see what is happening on the stage.
All of you who haven't been to Vintage Show so far should not hesitate any longer. I had a great fun there. It was sensuously. Only positive emotions! I keep waiting impatiently for the next edition of Vintage Fetish Show!





Newest comments: