What is so appealing in clothes made of latex? - Interview with an alternative designer Paweł Tumiłowicz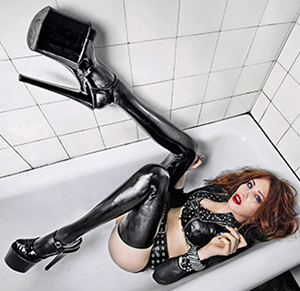 Reads: 12642 times
Galleries:
Last topics on forum:
Alternative groups evoke many different emotions. For designers they are both great challenge and an inspiration. It is the gothic rock, electro-industrial and cyberpunk aficionados for whom Paweł Tumiłowicz designs things. The dark climates is where the designer seems to feel perfect. His clothes have a task to fulfill: they need to draw attention to themselves and be performance.
What does fashion mean to you?
Fashion may mean different things to different people. I happen to be a designer, so it is the way, it is in my works. Delving into the very meaning of what is fashionable, some certain factors must be taken under consideration. Everything depends on people. Notice the fact that not everyone approves the trends served each season by the fashion industry. Alternative designing is mostly based on the niche tendencies of a given subculture. I aim at creating what is missing and what inspires other people. There's is nothing that limits me and I guess, it is my mood that leads me.
Above all the materials you are the most fond of latex. What is so appealing in clothes made of latex?
I've always been into latex. These clothes are perfectly formfitting, they may seem as a second skin. Plus the magnetic colors and the gloss! Everything can be made of latex: from simple stockings to more sophisticated and difficult outfits. Finished and complete outfits make such an effect that it is hard to remain unimpressed.
Latex is mostly associated with sadomasochism, formfitting clothes and heavy perversion. What are your thoughts on that?
Really? Oh well.. It's like you asked if pants are for men only because they were the first to wear them. On the more developed markets clothes made of this material do good in music, fashion, photographic and advertising industry among the top brands. Whenever someone has only the
connotations you mentioned, all I can do is smile. My collection 'Latex Skin' proves that latex clothing can be stylish and tasteful. It is a matter
of by whom it was made and how they were designed. Vulgar and daring clothes can be made even of cotton; despite the commonly used materials they will be tastelessly provocative.
What is people's first reaction when you tell them what you do? Is latex still being associated with one thing only?
I haven't experienced any negative reaction yet. On the other hand, I don't feel obliged to enlighten everyone about my work. The projects do
great impression, and the models and performers even greater. Leggings, skirts, dresses or catsuits made of it is what is being worn by
some most famous music stars like Katy Perry or Lady Gaga. In Poland this material still evokes certain associations, and is embraced by the rather isolated subcultures. We're trying to change it.
What project makes you the most proud?
It's hard to pick one from all that was made. It may sound diplomatic but I'm proud of all of them, every one of them tells its own story. I think there's still a lot ahead of me.
What appeals to you the most working as a designer?
I've always been looking for originality in clothing. The fashion of the cheap brands has never fit my own idea of aesthetics. I've always thought there's something missing. If I did sew something for myself I wanted it to be better than the bought clothes. Being a designer lets me create
something I like, not something I have to buy without too much of a choice. The satisfaction of making something by myself is huge.
How did your career as a designer started?
Interests in fashion and design have always been inside me and that's it. My friends used to play football outside and I would play with a cut up tablecloth. I was in high school when I began making clothes worth wearing. With time I became more self-confident and aware of my skills,
then I came out and expanded on the market with my own brand ALTERNATIVE OFF FASHION STORE. Since lately, you can order clothes
I design via online shop LATEX.SHOP.PL, and there are plans for two more shops. The offer of a workroom is a proposition for the people with an
alternative sense of taste.Whoever is looking for clothes that are inimitable, offbeat and impossible to find in high-street shops, can find something here.
Celebrities wear latex. Recently we've seen photo shoot of the top model – Anja Rubik. Who would you like to design for?
A lack of idea for themselves and their image is apparent not only on the streets but among stars and celebrities too. In Poland everyone's looking to copy designs from the magazines of the western countries. That makes me sad and at the same time it evokes reflections about the
attitudinal aspects we represent. I can design for everyone. Anja has worked with the best and here is the proof that latex looks great and it's not erotic.
One can hear many different things about latex. Is it hard to dress and undress? Is it comfortable?
I suggest trying, then you can tell for yourself what a comfort it is to wear it. The fact is that latex is a special material that needs certain care after and before wearing. If you read the leaflet you'll find out that the usage is very easy. The important thing is not to buy Chinese latex
that is very cheap and because of that it's very unaesthetic, it smells bad and is easy to destroy. Our latex never causes such difficulties.
You don't restrict yourself to designing clothes only. You create also accessories. Can you tell us a bit more about it?
As every maker I like to relax and then I create things for myself not for the others. This is when I make some accessories, depending on my mood, more funny or contrasting with my brand line.
What are you plans for the future?
Since the very beginning of my company, my goal was to create clothes that keep high standards of wearing. Things are looking up but the market is a tough place. Successful projects, clients' satisfaction and the people I work with – all that gives me a great deal of energy and stand for the fact that I grow my business the right way. As for my plans I have some goals to achieve: further progress of the brand, keeping up the quality of the products, increasing sales by expansion into the western market and cooperation with very good models and photographers.
www.latex.shop.pl
www.facebook.com/Alternative.Off.Fashion.Store
Pages:
Newest comments: