Wroclaw Tattoo Konwent 2012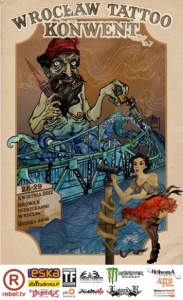 Reads: 3400 times
Galleries:
Last topics on forum:
Wrocław is rich in creative events!
It's widely known that the capital of Lower Silesia is racing (and gradually catching up) with other polish and european cities in organizing various events. There are huge festivals (Dialog Theatre Festival, "classic" Wratislavia Cantas and Musica Electronica Nova, movie-oriented New Horizons) as well as smaller ones (Podwodny Wrocław [Underwater Wrocław], concerts in currently closed CRK [Culture Reanimation Centre], fantasy conventions and meetings like Gratislavia, Dni Fantastyki [Fantasy Days] etc.) that are not only continuously popular but also gaining greater attention. Thus, it's only natural that the organizers chose this city to start Tattoo Convention project – perhaps not the only one in Poland but the first in Wrocław. So what was worth praising and what should be improved?

First of all, the location. It would be hard to find a place with a better ambience than the halls and recesses of Browar Mieszczański [Bourgeois Brewery] that serves daily as a meeting and work space for various art groups (Ad Spectatores theatre, rehearsal rooms for local band, small companies' offices...). Rough walls with lots of defects, marked with bullet holes from the war, chilly and dark interior... all that built an extraordinary background for event's convention and its visitors – colourful, original, unforgettable. Even though the scene room was not that big, the scene itself was mounted skillfully enough for everyone to easily take a seat in front of it and observe what's happening.
The majority of visitors gave themselves into the artistic hands of tattooists – roughly in every stand one could see them in action with some of the designs being really impressive. I'll leave open the question of properly sterile conditions – I'm not entirely sure how this should look like but they were rather good enough with sufficiently secured tools and profusely used sterilizing fluids. If this wouldn't be the case I'm sure that people responsible for the event would surely react.

Entering the exhibitors' (tattooists) hall one could immediately have an impression of getting into a huge beehive. The sound of working tattoo machines was omnipresent and the customers were bravely gritting their teeth, enduring pain accompanying the creation of small works of art appearing on their legs/back/fingers/bellies.
All the rooms and stands were located in a good way, although the layout of the Brewery made walking paths a maze. After few hours of wondering around or following a map it was rather easy to get where you wanted to.

Along with tattooists there were also a few alternative clothing stands that were equally popular. Apart from internet shops it's really hard to find most of those things on any store shelves, so it was a great opportunity to touch the fabric, check how the item's made, try them on without the risk of sending back or making alterations – especially since clothing as original in design as that is not cheap at all so every kind of interfering is usually painful for the owner.

For the final I've left the story about what was happening on the mounted stage. The highlight of the whole convention's program was of course the tattoo contest, at least that's what the organizers claimed and the speaker emphasised constantly. Quite a pleasant event – beautiful body art judged by professionals with tattooists' customers as models.




And rather paradoxically those customers, people who love tattoos, were far better on catwalk than some models participating in one of three other fashion and hairstyles shows.
I'm aware that those were not the professional models but young and pretty girls, obligatory tattooed. However, the organizers of those shows should make sure to prepare them for the event, even in the psychological aspect. Girls were tense, walking fast – too fast to take a good photo, some of them on sky-high heels seemed to be merely trying not to fall down... It would be sufficient for them just to walk a bit at home, slowly, step by step. The scene was firmly mounted, there was no unevenness so there was no risk of collapsing. Walking calmly would guarantee time for everything – paying attention to rhythmic pace, time for photographers and proper exposition of the things they were showing – clothing, hairstyle, tattoos. No wonder that most of them looked frightened since walking down the catwalk is probably the most extreme "social exposition" for every person. Perhaps they were just afraid of their personal evaluation usually occurring in situations alike, therefore, one small advice for the future – girl, you're a hanger for artist's work that you're presenting and not "Jane Doe" or whatever you have in your ID! Chill out and everything will come out as it should. I keep my fingers crossed for most of those girls could surely devote some time for alternative modeling and would make out very, very good.

Apart from the aforementioned shows there were also a few concerts of various music genres, from every side of the Force. A bit of alternative, some rock-metal as well as one amusing band with musicians having so much fun that they seemed not to notice what was happening off the stage (a deep bow to the Ziggie Piggie). Something for everyone, who wanted to look could stay, those who didn't... still could watch what was happening onstage because screens and loudspeakers were also in the exhibitors' hall. Fairly rich catering enabled continuous stay at the convention's site for the whole two days without the need to go out, the fact extremely important for people coming a long way to Wrocław – Hubska St is not located close enough to the city centre to just go spend some time in a bar or downtown and come back after a little while. I suppose that location like that is favoured by organizers and cooperative companies, however for us, the visitors... that's another matter.

Last, but not least, I will write about an extraordinary event that will always make an impression on those who experience it – no matter how many times, if not always, for I would fear a person who would claim it's "nothing special". A group "The Hooked Friends" presented a suspension show - hanging up people from steel structures on hooks attached to the very body. All that in the dark theatre convention with most famous themes (or even smash hits) of classical music in the background: Beethoven's Piano Sonata No. 14 in C-sharp minor (Moonlight Sonata), Edvard Grieg's "In the Hall of the Mountain King" from Peer Gynt play, Wagner's "Ride of the Valkyries" from "Die Walküre" opera, Carl Orff's "O Fortuna" from "Carmina Burana" cantata... We all know them and the power of the sounding equipment intensified sensations.
The first suspended model was probably quite experienced, the hooks were attached to the skin before the show, but the girl that was the second one... Everything was fixed live and I would very much like to believe that it was all scripted and that she was just a good actress – but you can't fool your body, with her eyes covered she was shaking in fear with her body's every single muscle. There was a rumour that it was her first suspension. She had six or eight hooks, she was hanging under the ceiling in a cross-legged sitting position with hooks in ankles, thighs, arms and back. Than they swung her for a better effect. She was still trembling, blood from the hook wounds was dropping down her legs...

Well, Wrocław, keep it up! So many diverse attractions in such a short time is truly a domain of every good assembly. We want more! I expect that the succeeding edition of Tattoo Convention will take place next year in the same place.
Pages:
Event:
Other articles:
Newest comments: